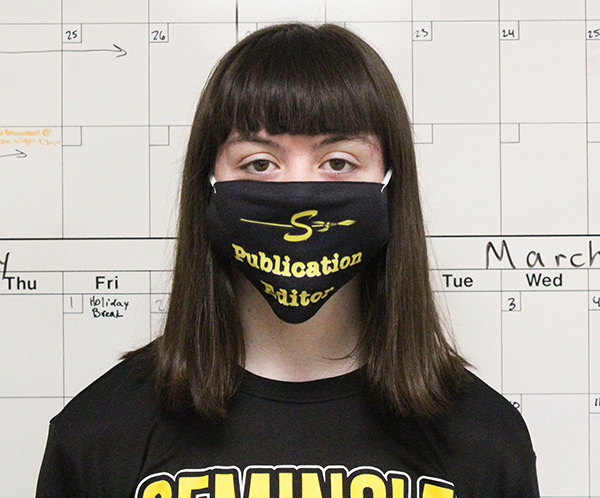 I am finally a senior, and I was diagnosed with senioritis on the first day of school.
Let's just say I'm a busy person, and I can't wait to just do nothing all day in my college dorm room.
I'm also an editor in chief for the second year in a row.
I love whales and tacos. If you've seen my backpack or my everyday style --a taco or whale is usually in view.
My favorite color is yellow because I've noticed as I grow up, yellow is always a color I am drawn to.
My favorite coming-of-age movie would have to be Clueless.
Robin Franklin, Co-Editor in Chief/Sports Editor/Videographer
Dec 18, 2020

Indians to take on Shallowater at home

(Story)

Dec 18, 2020

Aqua Tribe works in smaller meets on road to district

(Media)

Dec 18, 2020

THE SAME ONLY DIFFERENT: Pandemic changes club fundraising and procedures

(Story)

Dec 14, 2020

MY VIEW: Holiday movies are too predictable

(Story)

Oct 30, 2020

Indians look for second district win up north tonight

(Story)

Oct 29, 2020

DISTANCE LEARNING ENDS: Procedures protect student activities

(Story)

Oct 28, 2020

Runners face frigid conditions at district meet

(Media)

Oct 23, 2020

MY VIEW: Free from social media for 24 hours

(Story)

Feb 24, 2020

Upperclassmen inaugurate new program

(Story)

Feb 14, 2020

GOOD SPORT: Legend transcends sport

(Story)

Feb 14, 2020

Maiden softball to host scrimmage tomorrow

(Story)

Feb 10, 2020

Entrepreneurs take $2,000 with 'Big Idea'

(Story)

Feb 08, 2020

GOOD SPORT: My love for Utah Jazz began at birth

(Story)

Feb 04, 2020

BAG LADY: Prom dress search, while frustrating, can work out

(Story)

Jan 24, 2020

Indian basketball to host Andrews tonight

(Story)

Jan 22, 2020

WHAT'S NEXT? Future looms as students plan for life after high school

(Story)

Jan 10, 2020

BAG LADY: New Lubbock store pairs merchandise and philanthropy

(Story)

Dec 20, 2019

Indian basketball hosts Central tonight

(Story)

Dec 18, 2019

FOR THE CHILDREN: Annual service project benefits local families

(Media)

Dec 13, 2019

ENTREPRENEURS: Sophomores put business plan to test with competition

(Story)

Oct 25, 2019

As e-cigarette dangers grow, teens struggle with addiction

(Story)

Oct 25, 2019

Indians begin district hosting Lake View tonight

(Story/Media)

Oct 22, 2019

MY VIEW: Advice from the queen of stress

(Story)

Oct 17, 2019

One team, two individuals qualify for region cross country

(Story/Media)

Sep 06, 2019

Indian football team looks for second win in Idalou tonight

(Story)

Feb 13, 2019

MY VIEW: Bullying is an everyday occurrence

(Story)

Feb 11, 2019

Holiday requirements add stress

(Story)

Dec 12, 2018

9th Maidens 7-5 on season

(Story)

Jan 31, 2018

Maidens face Lamesa Friday

(Media)

Sep 26, 2017

HOMECOMING 2017: Road home dominates come-back week activities

(Media)