Indian football team looks for second win in Idalou tonight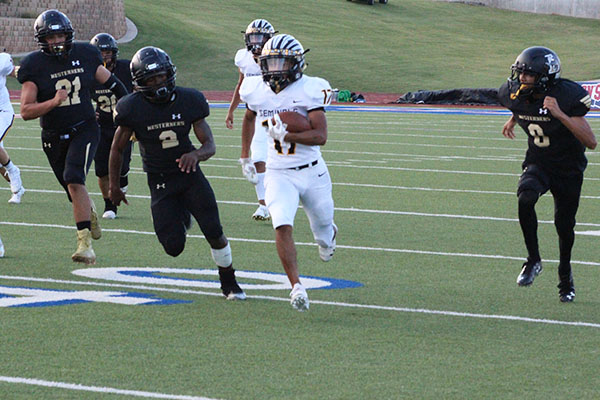 Coach Ty Palmer's first win as a varsity coach had as much to do with chemistry as it did with skill. The seniors and most of this coaching staff have been together since those seniors were in junior high.
  "These seniors were seventh-graders when we came in six years ago, so this group is very special to me," Palmer said. "All of these coaches stayed when they could have left, and that is a huge vote of confidence from them. So to get my first win as a head coach with this group will always be a big moment in my career."
  The Indians accumulated just over 400 yards of offense in the 57-7 win over Lubbock High on Aug 29. Senior running back Devin Doerksen rushed for 113 yards and two touchdowns.
  "The linemen create big holes," Doerksen said. "We have to fill them."
  Defensively, junior linebacker Emilio Aguilar had 11 tackles in his varsity debut, while senior defensive back Luis Zubiate had four tackles on kick-off returns. 
  "The kick-off coverage team was outstanding," Palmer said. "We were able to pin LHS deep several times, and the defense only gave up 34 yards in 31 rushing attempts to Lubbock High.
  "We have a good defensive line," senior lineman Jaxon Washington said. "We have a good linebacker core as well and a fast secondary
  One problem for the Indians during the lead up to the Westerners match up was an injury to senior center Garrett Currie's snapping wrist.
 "Garrett injured his wrist on his right hand on Tuesday and snapped left-handed in the game Thursday and never really missed a beat," Palmer said. "It was a cool experience to watch him do that and show a lot of guts and character to do so."
  Tonight the Indians will face Idalou in preseason play. The Wildcats use a running option-based offense much like the Indians.. 
  "Idalou is a historic storied program that is always very good," Palmer said. "This year is no exception. They will try to control the clock like we do and minimize possessions, so we must make each one count."
  Palmer said the Indians must be able to control the line of scrimmage and stay on schedule with first downs.
  "They will make us pay if are not able to do that," Palmer said. "They will try to lull us to sleep running the ball then hit a big pass over the top. We must be disciplined and read our keys." 
 Winning with the chemistry the coaches and players have will always be big moments in Palmer's career.
  "Just getting to see the faces of the boys light up after the success they had is what makes it worth it," Palmer said. "They have put in so much work that no one sees and for them to get to shine like that is always a special thing."
  The Indians will face Idalou at 7:30 p.m. on the Wildcat field with hopes that skill and chemistry lead to a second win.