Golf back in swing as district nears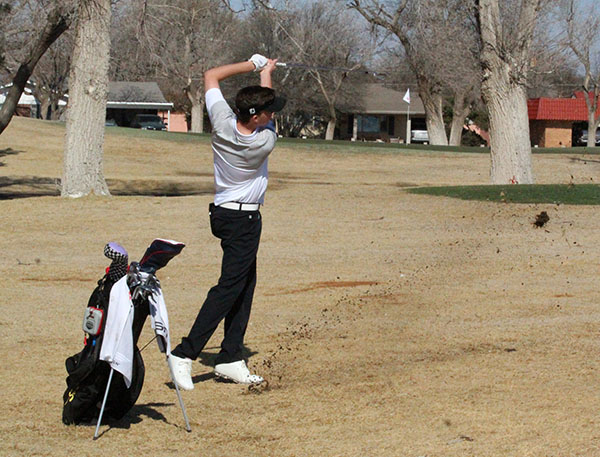 The golf teams have unfinished business as they work to advance after last season was cut short due to Covid-19.
Junior Cason Johnson, who went to state in 2019, said the team was playing catch up.
  "It's sad that last year had to end the way it did with Covid," Johnson said. "I feel as if we had fallen behind on practice due to rules being put in place to stay at home during last year; however, what we had lost last year we have made up for this year with good practice and even better coaching." 
  The fragile nature of the season during a pandemic taught the golfers to appreciate what they have.
  "Our team has focused more on our goals," junior Dylan Banman said,  "because we saw just how quickly an opportunity can be taken from us."
  With district rounds a little over a month away, junior Breanne Davison said she plans "on spending a lot of time on the range to get ready."
  Coach Mitch Shain spends extra time with the teams where they need to be before district.
  "The kids are starting to put in some quality practice sessions," Shain said.  "We will need to continue to spend some extra time outside of practice time at the course working on our skills in order to compete at a very competitive level.  We have a very talented district, and we are planning on being right in the hunt when the time comes."
  The pandemic hasn't changed procedures for golf much.
  "For the most part, we have continued as we did last year," Johnson said.  "Some tournaments in the fall were tee times, which is unusual for a high school tournament. Other than that, things have been pretty regular." 
The play in the fall has boosted the golfers' skills.
  "We definitely had a lot of progress last semester," Davison said. "We still have lots of improvement we need to make if we want to go to state."  
  The competition in District 2-4A is always strong with Andrews a perennial region/state qualifier.
  "We are extremely thankful for the opportunity to compete.," Shain said.  "We compete in one of the toughest districts in the state and are looking forward to the challenge it will present.  I believe the two teams that advance out of our district will have a great opportunity to advance to the state tournament.  We are excited to be a part of it."
The Maidens first team will compete in the Smithson Valley invitational this weekend while the second team and the JV will host the Seminole invitational on Friday.
The Indians first team will also be in the Smithson Valley invitational while the second team will compete in the Seminole tournament on Saturday.
Results from Maiden play in the region preview at Shadow Hills in Lubbock on March 5-6
Maiden Team One took 7th with 716 strokes.
Senior Chloe Quisenberry shot 93 + 85 = 178 strokes.
Junior Kendra Elias shot 93 + 86 = 179 strokes.
Junior Kasey Hogue shot 91 + 88 = 179 strokes.
Junior Gabrielle Alaniz shot 93 + 88 = 181 strokes
Sophomore Daycia Cornett shot 99 + 87 = 186 strokes.
Maiden Team Two took ninth with 761 strokes.
Junior Breanne Davis shot 88 + 88 = 176 strokes.
Sophomore Abigail Fortner shot 108 + 86 = 194 strokes.
Freshman Maggie Duncan shot 100 + 95 = 195 strokes.
Freshman Zoraya Neufeld shot 103 + 97 = 200 strokes.
Sophomore Kennedi Ballard shot 104 + 102 = 206 strokes.
Results from Indian play in Andrews on March 5-6
Indian Team One took second with 661 strokes.
Junior Cason Johnson shot 84 + 73 = 157 strokes (fourth place individual).
Senior Ethan Robledo shot 88 + 80 = 168 strokes.
Junior Dylan Banman shot 89 + 79 =168 strokes.
Junior Darren Klassen shot 86 + 83 = 169 strokes.
Junior Jake Berry shot 92 + 82 =174 strokes.
Indian Team Two
Sophomore Austin Lacy shot 83 + 99 = 182.
Senior Keagan Villalva shot 89 + 93 = 182.
Sophomore Cooper Fehr shot 111 + 90 = 201.
Leave a Comment