Softball team gets back on diamond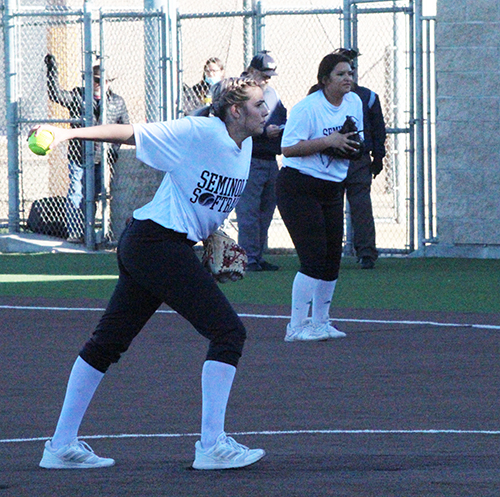 The Maiden softball team will begin preseason play at Lamesa on Feb. 16 after last year's season was cut short due to COVID-19.
  "I'm very excited to get the season started," Coach Gary Mayfield said. "We got a call on March 12 last year saying we needed to come home, and we were thinking maybe we would be down a couple of weeks and it turns out we lost the rest of the season."
  The cancelled play put the Maidens at a disadvantage.
  "The loss of a season really took a toll on our sticks," senior second baseman Alyssa Olivas said. "Most of our girls haven't seen live pitching in a while, and it is crucial that we get back on track if we want to go far this year. With the loss of our seniors from last season, we need younger players to step up and work on defensive fundamentals."
  This year's seniors will have to lead after not having the full season leadership from last year.
  "The seniors we lost last year were very important to this program," Mayfield said. "They will always be remembered. Every team is different and every year brings new challenges."
  Senior pitcher Kamryn Cottrell joins the Maidens, coming from the Monterey program.
  "Since becoming a pitcher after moving to Seminole, there have been challenges in adapting to new coaches and teammates," Cottrell said. "There has also been a lot of pressure to do well and produce big in a new environment." 
  Mayfield had praise for this senior leadership this season.
  "This year's seniors are great," Mayfield said. "We have four seniors this year–two that have been with me for three years and two in their first year with me. Each one leads in her own way and that's what makes them great." 
  Junior first baseman Natalie Deleon said the team's bond is what allows them to work together and have the same goals.
  "This season I believe our bond is stronger than it has been because we all want to accomplish the same thing at the end of the day," Deleon  said. "We all can push and motivate each other even more knowing that we all have the right intentions of getting better and helping our team succeed."
  The UIL has granted more scrimmages to the softball teams to get back in playing shape. The Maidens will have five before the first game on Feb. 16.
  "Every season brings new challenges and new expectations," Mayfield said. "We are very excited to get the season started and looking forward to a great and long season."