Tribe tennis takes district win over Andrews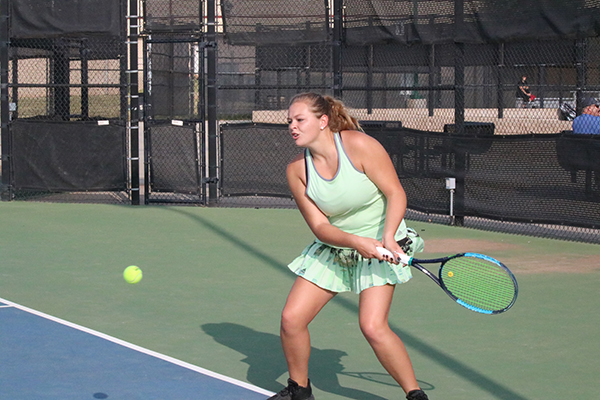 The Tribe tennis team took a 10-3 district win over Andrews on Sept. 19. The district tennis rule makes the first team to 10 the winner. In continued play after the first 10 matches, Seminole took 12, while Levelland took 11 wins.
In men's doubles, senior Daniel Fehr and junior Danni Klassen defeated Mustangs Jathan Slaughter and Corben Flores, 6-4, 6-4. Junior Franz Fehr and senior Jason Giesbrecht fell to Mustangs Julio Cortez Alvarez and Chris Curry, 3-6, 7-6, 12-10. Sophomore Ruger Scott and senior James Giesbrecht fell to Mustangs Justin Nguyen and Trotter, 6-7, 7-5. 10-8.
In women's doubles, seniors Marcela Guevara and Paulina Morales Mendoza defeated Mustangs Mia Martinez and Jocelyn Lujan, 6-0, 6-0. Senior Lauren Smith and junior Alyssa Gonzales defeated Mustangs Kaitlin Argabright and Jenyfer Argumendo, 6-2, 4-6, 10-7. Freshmen Rachel Harms and Jessica Giesbrecht fell to Mustangs Aubren Jeppesen and Graisyn Good, 6-2, 6-1.
In mixed doubles, senior Justin Giesbrecht and freshman Angie Klassen Enns, defeated Mustangs Shyanne Durham and Jairo Ontiveros 7-6, 6-4.
In men's singles, Jason Giesbrecht fell to Slaughter, 6-3, 7-5. Daniel Fehr defeated Curry, 6-4, 6-1. Danni Klassen defeated Nguyen, 6-4, 2-0. Franz Fehr fell to Cortez Alvarez, 7-5, 3-6, 10-7. James Giesbrecht fell to MustanMadduxux Foster, 6-1, 6-4. Scott defeated Ontiveros, 8-6. Freshman Josh Lopez defeated Mustang Ty Gore, 8-6.
In women's singles, Smith defeated Durham, 6-4, 6-2. Morales Mendoza defeated Martinez, 6-3, 6-0. Guevara defeated Lujan, 6-2, 6-3. Gonzales fell to Jeppesen, 6-2, 4-6, 10-5. Klassen Enns fell to Argabright, 6-2, 2-6, 10-6. Jessica Giesbrecht fell to Argumendo, 6-2, 6-1. Rachel Harms fell to Good, 6-3, 6-2. Freshman Emily Giesbrecht fell to Mustang Zemira Recio, 8-0.