Aqua Tribe hosts meet as district approaches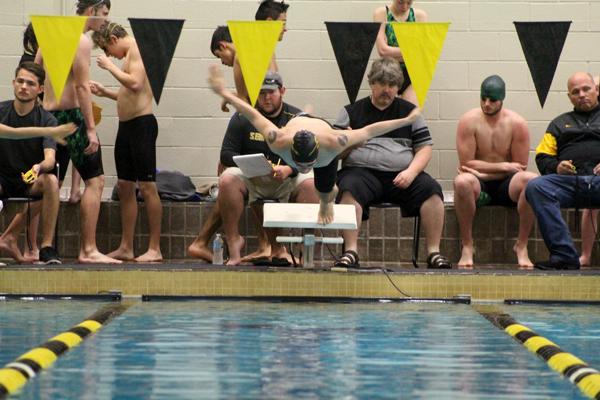 Hang on for a minute...we're trying to find some more stories you might like.
The Aqua Tribe will compete in its last preseason meet in Andrews on Jan. 7 as a warm up for district also in Andrews on Jan. 20 and 21.
The team hosted its home meet on Dec. 10 where the Maidens took fourth and the Indians took 10th. With a new district, there will be new competition.
"Abilene Cooper is new to us," Coach Danielle Sims said. "We don't swim with them, so it'll be interesting what they bring to the table. Andrews and Pecos are always at the high end of our toughest competition."
Senior Steven Weeks is no stranger to most of the competition. "I think I'll do well," Weeks said. "It's the same as regular meets, just without the big schools."
The team continues to improve with each meet. "They have all improved on their personal bests," Sims said. "They have also improved, and are continuing to improve, on their starts and inner turns."
Senior Regina Froese said she still needs improvement.
"I could improve on my backstroke starts for sure," Froese said. "I have improved on my turns." Turns have had much improvement.
Results from Seminole Meet Maidens–fourth overall (226 points)
Women 200 medley relay (Regina Froese, Grecia Hermosillo, Kaitlin Harrison, Meredith Rempel)–fifth (2:42.08)
Women 200 free (Harrison)–eighth (2:58.53), (MaKenna Ballard)–12th (3:10.43), (Hannah Patterson)– 18th (3:28.70)
Women 50 free (Rempel)–ninth (34.03), (Isabella Friesen)–10th (34.30), (Taylor Smith)–13th (37.05), (Daniela Ramos)–15th (37.44), (Kaylei Green)–17th (37.96), (Jessie Allen)–25th (39.90), (Hailey Blair)–27th (40.59), (Aubrey Shrib)– 43rd (51.98)
Women 100 fly (Harrison)–ninth (1:41.04) Women 100 free (Rempel)–eighth (1:15.83), (Friesen)– tenth (1:16.05), (Cassey Thiessen)–13th (1:19.15), (Smith)–21st (1:30.95), (Ashley James)–22nd (1:31.97), (Shrib)–30th (1:48.42)
Women 400 free (Lena Martens)–eighth (6:16.26) Women 200 free relay (Hermosillo, Friesen, Rempel, Harrison)–fourth (2:19.33), (Martens, Thiessen, Ramos, Froese)–eighth (2:30.97)
Women 100 back (James)–12th (1:47.22), (Patterson)–15th (1:51.17), (Blair)–16th (1:53.35)
Women 100 breast (Hermosillo)–sixth (1:41.69), (Thiessen)–13th (1:47.94), (Ballard)–14th (1:49.21), (Martens)–18th (1:54.97), (Green)–22nd (1:57.75), (Ramos)–24th (2:04.35)
Women 400 free relay (Friesen, Martens, Thiessen, James)–sixth (5:41.11), (Ballard, Patterson, Green, Ramos)–11th (6:07.43)
Indians–10th overall (40 points) Men 50 free (Steven Weeks)–ninth (28.48), (Aaron Espinoza)–13th (29.75), (Tristin Williams)– 23rd (33.18), (Zane Wall)–41st (42.49)
Men 100 free (Espinoza)–ninth (1:07.23), (Williams)– 18th (1:15.14)
Men 400 free (Weeks)–fifth (5:17.19)