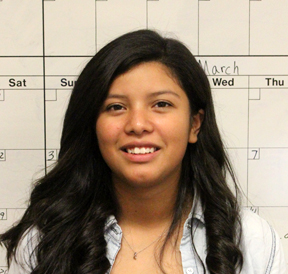 Hi!! I'm finally a senior and not ready for the real world. I'm very nervous about graduating  but can't wait to walk that stage. I have been in journalism for three years, and I'm involved in yearbook, newspaper and photography. This year I am the editor of the yearbook and proud to say I'm SHS.
 I live in a house with 10 other people. It's a full house; it gets pretty hectic, but it's pretty fun for the most part. I love my big family and can't wait for it to get bigger.
I really enjoy writing, reading and listening to music. I love Harry Potter--I'm a Slytherin.
Jessenia Balderas, News/Features Editor/Advanced Photographer
Mar 01, 2019

Maiden track finishes in third in Lamesa

(Media)

Mar 01, 2019

Indian track takes second at Lamesa meet

(Media)

Feb 20, 2019

Brattain tops women's all-district basketball list

(Media)

Feb 11, 2019

Holiday requirements add stress

(Media)

Feb 07, 2019

Artists get ready for competition

(Story/Media)

Feb 07, 2019

Maidens to meet Clint in bi-district

(Story)

Feb 05, 2019

Tennis hosts Cooper

(Media)

Jan 18, 2019

Adviser spent 24 years with SHS journalism

(Story)

Dec 14, 2018

Maidens to face Estacado tonight

(Story)

Dec 11, 2018

PHOTO STORY: Holidays happen in every hallway

(Media)

Dec 10, 2018

Education foundation to host competition on Dec. 17

(Story)

Nov 28, 2018

Coaches select 2-4A All-District Football Team

(Media)

Nov 13, 2018

Indians defeat Andrews for title, will meet Fabens in bi-district football

(Media)

Nov 12, 2018

Seminole ISD takes canned food challenge win over Andrews

(Media)

Oct 16, 2018

Homecoming takes familiar One Tribe theme

(Media)

Oct 04, 2018

Tennis to play final district round vs. Fort Stockton

(Story)

Oct 04, 2018

Indians take preseason to Loboland tonight

(Media)

Oct 03, 2018

Distance teams to compete in Lamesa

(Media)

Oct 03, 2018

Maidens defeated Pecos, face Andrews as first round ends

(Media)

Sep 07, 2018

PARKING PAINT: Service project encourages personal space

(Media)

Mar 05, 2018

GOING TO THE SHOW: Indians defeat Wylie in Region 1 final to qualify for state

(Media)

Feb 28, 2018

Indians get back to region tournament, to face Midlothian Heritage in semifinal

(Media)

Feb 13, 2018

Art Club builds membership

(Story)

Jan 26, 2018

The BEAT Volume 4, Number 4 (January 26, 2018)

(Media)

Jan 16, 2018

Vocalist qualifies for all-state for second time

(Story)

Nov 17, 2017

Maidens to play in Sundown tonight

(Story)

Nov 13, 2017

Indian football to face Dalhart in bi-district

(Media)

Oct 24, 2017

Freshman qualifies for state cross country meet

(Media)

Oct 24, 2017

2017 Fall Choir Concert

(Media)

Oct 17, 2017

Both distance teams qualify for regional competition

(Media)

Sep 29, 2017

Indians begin district in Monahans tonight

(Media)

Sep 29, 2017

Maidens travel to Brownfield tomorrow

(Media)

Sep 26, 2017

HOMECOMING 2017: Road home dominates come-back week activities

(Media)

Sep 22, 2017

School organizations combine for carnival atmosphere at stadium

(Media)