Four artists advance to state VASE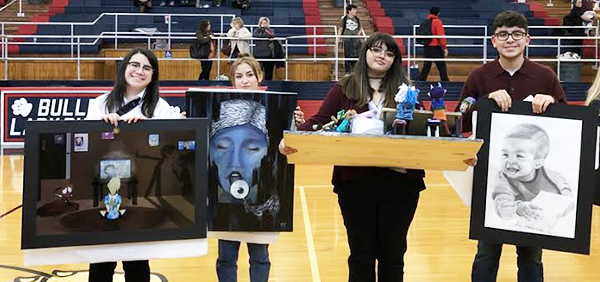 Four of 54 students made the state cut at the Visual Art Scholastic Event on Feb. 13 in Plainview.
In all, Seminole entered 63 pieces in the district competition which encompassed16 school districts and 21 schools.
Out of 393 pieces of art, only 28 were chosen to be state-bound," art teacher Carissa Autry said. "This is only seven percent of the total artwork, 10 percent of those who earned a medal."
The four students that advanced to state from Seminole are juniors Raven Parker, Sydney Gonzales, sophomore Sandra Hernandez Tarango, and freshman Kevin Ronquillo.
Ronquillo drew a portrait of his nephew.
"My piece was named Mono Miracle," Ronquillo said. "I made this piece because I wanted to enhance that my nephew is a miracle to our family."
Hernandez Tarango was taken by surprise when she advanced with her painting Limbo's Dose.
 "When I heard them announce our names for Seminole," Hernandez Tarango said. "I was absolutely caught off guard."
Gonzalez's piece was a digital drawing called 1-800-THE-LOST.
  "The name of my piece is the phone number to the hotline for missing and exploited children," Gonzales said. "I just wanted people to take away that you're someone looking in on a broken home, you can never really fully understand what someone has gone through. Missing persons are becoming more and more prominent in our day to day lives."
 Gonzales's art also came from a broken place after her laptop malfunctioned.
 "Since my piece was digital, I was doing it on my laptop," Gonzales said "I had mistakenly dropped my laptop one day as I was putting it into the bag to take to school. I tried to turn it on, and it would keep on bringing up a weird screen. Since my dad works in IT, I figured he could tell me what was wrong. We found out that my hard drive had crashed, so all my work was gone. I had to completely start over on my piece, and I had only one month to finish it."
 Parker's sculpture, called Family by Choice, depicted a family of cloth dolls. 
"The reason I named it Family by Choice was that the whole concept of my piece is you don't have to be related by blood or marriage," Parker said.
  State VASE will be on April 24-25 in San Marcos.
Student artwork can be viewed at the Seminole Art Walk in the Pow Wow Room across from city hall on March 24 and at A Night of Fine Arts on May 4 in the performing arts center foyer.