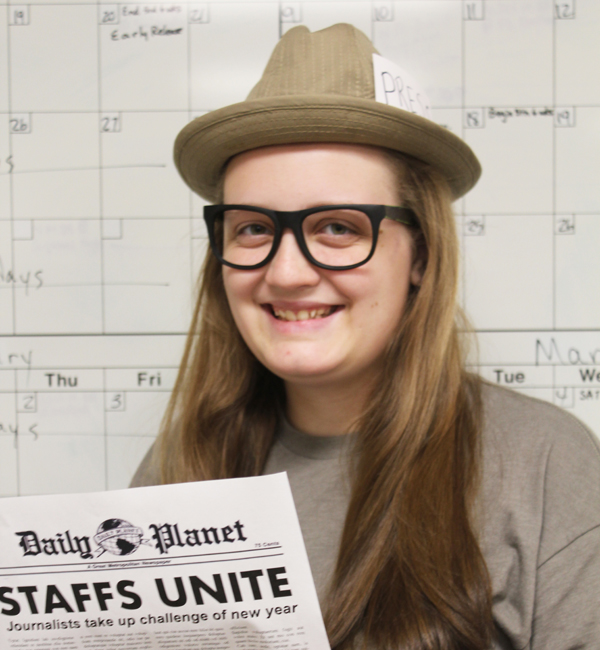 My philosophy for life is to shine bright, to shine bright for Jesus, to radiate positivity and to just be a light in a world full of darkness.
My superpower would be that I am friendly.
I would have to say my kryptonite is to always please people.
My favorite superhero would be Spider-man because he chooses compassion over violence. He is relatable and independent, not to mention he is sometimes is socially awkward, which I sometimes am, too.
My real-life hero is Jesus because He died for me and paid the cost for my sin. My mom is also my hero because she is strong and kind. She shows what it means to follow Jesus.
Some random facts about me are that I love french fries and could live off of soup, especially German soup. I also want to travel everywhere but don't have the money, so if anyone wants to start a GoFundMe account for my traveling expenses, that would be greatly appreciated. (;
Linda Giesbrecht, Photographer
Feb 12, 2020

SOUNDBITE: Sequel makes good choice for Valentine's viewing

(Story)

Feb 07, 2020

PHOTO STORY: It's a Seminole thing

(Media)

Jan 24, 2020

Indian basketball to host Andrews tonight

(Media)

Jan 22, 2020

WHAT'S NEXT? Future looms as students plan for life after high school

(Media)

Dec 20, 2019

Indian basketball hosts Central tonight

(Media)

Oct 25, 2019

Maidens clench playoffs, host Pecos tomorrow

(Media)

Oct 22, 2019

Tennis Tribe takes historic district win to area round

(Media)

Oct 07, 2019

HOMECOMING 2019: Booster Club and student council sponsor events all week

(Media)

Oct 07, 2019

Tennis team takes district championship

(Media)