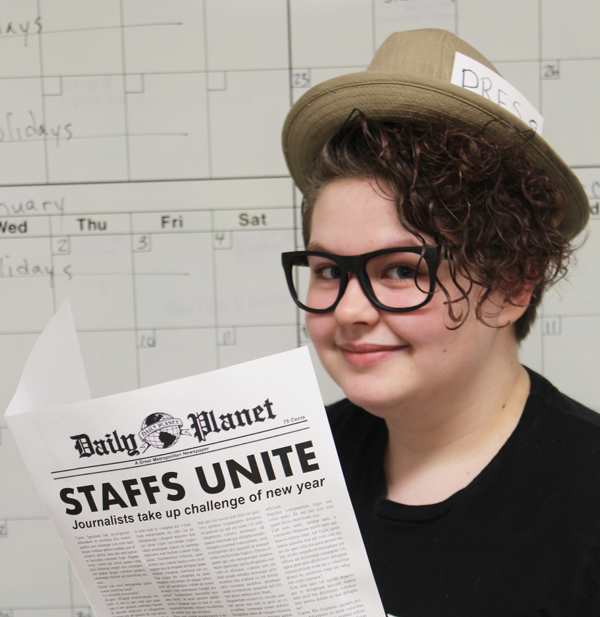 My philosophy: always think about your choices and how they will affect you and others.
My superpower: always being able to recommend something (book, show, movie, song) to someone
My kryptonite: talking to people I don't know...doing new things...and myself.
My fictional hero: detective Dominick "Sonny" Carisi. He may not have laser eyes or the ability to talk to fish, but he helps abuse and assault victims get help and justice. To me, not having powers, but having the will to do the right thing, makes him just as heroic as any superhero.
My real life hero: anybody who's actually doing something to help save the environment and reduce our carbon footprint.
Random facts:
1) I find true crime + neuropsychology very fascinating.
2) I love cryptids.
3) I am an enamel pin/sticker/candle collector.
4) I am a graphic editor!
5) I love procedurals (mainly crime/medical).
Alayna Amen, Photo Editor/Staff Writer/Videographer
Dec 18, 2020

Aqua Tribe works in smaller meets on road to district

(Story)

Dec 15, 2020

HOLIDAY CHEER ENDS YEAR: Accounting class wins door decor contest with Grinch theme

(Media)

Mar 05, 2020

SOUNDBITE: Moss film is a different kind of thriller

(Story)

Mar 04, 2020

As coronavirus spreads to Texas, expert explains what to do

(Story)

Feb 14, 2020

Indian baseball builds skills with first game in 10 days

(Media)

Feb 07, 2020

PHOTO STORY: It's a Seminole thing

(Media)

Jan 23, 2020

SOUNDBITE: While all are worthy, only one film can win Oscar for Best Picture

(Story)

Jan 17, 2020

ANIMAL ACT: Ag students step into show ring

(Media)

Dec 18, 2019

FOR THE CHILDREN: Annual service project benefits local families

(Story)

Apr 24, 2019

One-act play takes third in state, four speakers qualify as UIL academic season nears end

(Media)

Feb 06, 2019

Freshmen Maiden basketball team ends season with win

(Media)

Oct 16, 2018

Homecoming takes familiar One Tribe theme

(Media)

Oct 03, 2018

JV Maidens to travel to Andrews

(Media)