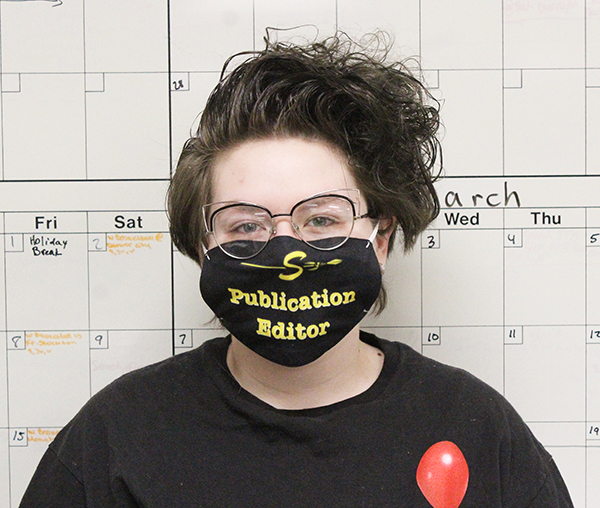 As legendary Jedi Obi-Wan Kenobi once said, "hello there." Yes, I just made a Star Wars reference; get over it. 
Anyway, it's nice to meet whomever you are, and thanks for deciding to read about me.
This is my third year in journalism and on staff. I started as a photographer in photojournalism, and now I am the photo editor, editor of the people section in the yearbook, an advanced photographer, a part of The BEAT, and a writer for the yearbook and online newspaper. I am also a member of the speech team.
My personality is an interesting one. If you know me personally, then you know that I can be rather loud, persistent and super talkative (especially when I'm talking about my new love for something).
If you don't know me or you haven't gotten into my inner sanctum, then I seem very quiet and reserved (which, I am).
I am also an occasional collector of enamel pins and acrylic charms, as well as books. Just because I don't read as much anymore doesn't mean that I don't like to look.
In addition, I listen to a ton of music, and just this morning, I was listening to a
Jekyll & Hyde
song before a Kesha song came on after. 
Hey, if you're still reading this, just know that you are important! Self-love is important, and we all should have a little bit of it, even if our brains say that we don't deserve it. Godspeed, reader! 
Alayna Amen, Photo Editor/Staff Writer/Videographer
Mar 05, 2020

SOUNDBITE: Moss film is a different kind of thriller

(Story)

Mar 04, 2020

As coronavirus spreads to Texas, expert explains what to do

(Story)

Feb 14, 2020

Indian baseball builds skills with first game in 10 days

(Media)

Feb 07, 2020

PHOTO STORY: It's a Seminole thing

(Media)

Jan 23, 2020

SOUNDBITE: While all are worthy, only one film can win Oscar for Best Picture

(Story)

Jan 17, 2020

ANIMAL ACT: Ag students step into show ring

(Media)

Dec 18, 2019

FOR THE CHILDREN: Annual service project benefits local families

(Story)

Apr 24, 2019

One-act play takes third in state, four speakers qualify as UIL academic season nears end

(Media)

Feb 06, 2019

Freshmen Maiden basketball team ends season with win

(Media)

Oct 16, 2018

Homecoming takes familiar One Tribe theme

(Media)

Oct 03, 2018

JV Maidens to travel to Andrews

(Media)