Maiden hoops host Cooper today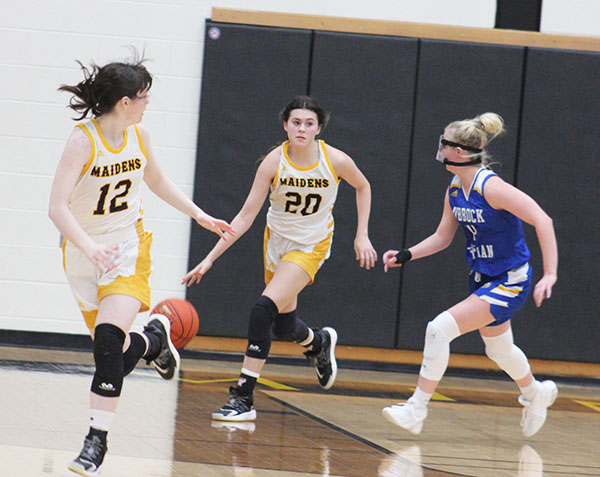 The Maiden basketball team's record is 7-4 as they prepare to host Lubbock Cooper in preseason action tonight.
  A preseason taking on 5A and 6A teams has helped the Maidens get ready for the district start in January, which will include the addition of Greenwood.
  "The team we need to beat in district is Greenwood," junior guard Xoe Rosalez said. "They have the same amount of talent we do."
  The Maidens cannot, however, put their sights on just one district team.
  "It's not just one team we need to focus on," senior guard Hailey Davis said. "We have to continually work hard to be undefeated coming out of district." 
   Greenwood does have the potential to provide substantial competition for the Maidens. 
  "Those will be tough games," Rosalez said. "If we do what we are supposed to do, we will come out on top, we could have an easier first game in the play offs."
  The pandemic affected several players as they had to quarantine after contracting Covid-19 or being exposed to the disease.
  "COVID has greatly affected out team," senior post Bretlei Dominguez said. "We are unable to spend as much time together as we used to." 
  Even though the pandemic has taken time as a team away, the Maidens have a strong bond. 
  "We are way closer than we were last year," Davis said. "We all get along so well. We also have had to adapt just like everybody else. We wear masks to ensure we have a season."
  The Maidens continue to work toward goals each game.
  "We can hustle more," junior forward Zoee Nolen said. "To ensure we get better, we can play as hard as we can at all times." 
  The Maidens fell to Lubbock Christian, 68-53, on Dec 15, as the Lady Lions went on a shooting spree in the third quarter.
   "To be a great team each of us have to be willing to put in the time after practice," Rosalez said. "We need to work hard to reach our goal."
  Game time versus the Cooper Pirates today will be 3:30 p.m. in the main gym.