Child development classes learn about being a 'parent'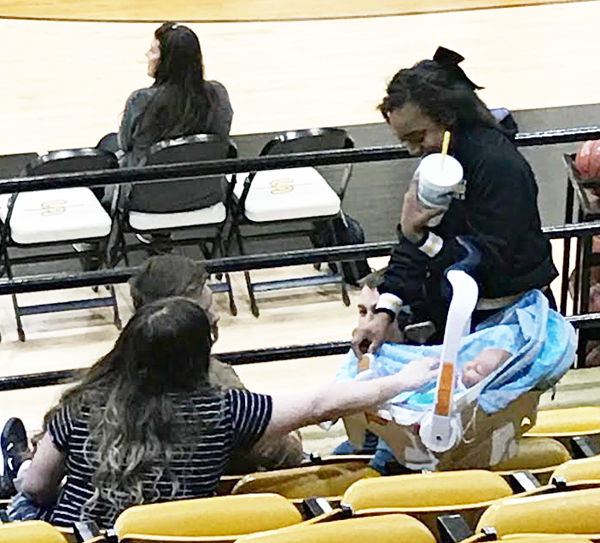 She sat up and rubbed her eyes, kissing sleep goodbye one more time. The baby's cries ripped through the house. Teen motherhood came with the loss of sleep.
  For the students in Julie Jameson's child development class, this sleep deprivation was only temporary. Students were assigned electronic babies to mother for 48 hours. 
    "I only got two hours of sleep last night," senior Kaymi Felan said. "My daughter kept me up between 10 p.m. and 11 p.m. and 1-2 a.m. I couldn't sleep after she finally went down until around 3:50 a.m.. I slept until 5 a.m., and then I was up at 7:30 a.m. to get us ready."
  Jameson's students are part of the Realityworks Basic Infant Care program, which allowed them to experience the responsibilities placed on the caregiver of a new infant.
  "Our hope with the program is to teach the immense responsibilities required to be a good and effective parent," Jameson said. "It's a real experience that shows them the time and effort that goes into being a parent."
  The babies record more than 35 activities and types of care, including temperature, layers of clothing and time spent in the car seat. During class and extracurricular, Jameson programmed the babies for "daycare mode".
  "Daycare mode is basically 'sleeping' mode," Jameson said. "If properly cared for, the babies should not disrupt class. They will activate and cry for two minutes if any sort of rough handling occurs. The caregiver will need to comfort them."
  The program has changed some of the participants' plans for the future.
  "After caring for the baby, I don't want to have kids at all in the future,"  sophomore Jazlyn Cortez said. "It was too much work."
  The family consumer science students learned the hassles of being a working parent.
  "When I get home, it takes me five minutes to walk up my drive way," sophomore Shaquana Lane said. "The hardest thing was carrying all my bags and having to feed the baby in the car seat at the same time."
  Just like with a real infant, student-parents learned the unpredictability of child care.
  "She cried for no reason at one point," Felan said. "I took the blanket off of her, and she gave a hurt cry. I didn't hurt her."
  However, students also experience the pride and joy that real parents revel in.
  "After I got up to care for him on the first night, he went right back to sleep," Cortez said. "He slept through the night."
  No one takes a baby home until they have done the prep work in class.
"Leading up to getting the babies, we go over prenatal care and first year development, how to rock them, how to hold them, and about changing their clothes," Jameson said. "In the unit, we go over shaken baby syndrome and sudden infant death syndrome as well as car seat safety, and PIES, which is physical, intellectual, emotional and social development."
  The project helps child development students understand that there is a lot that goes into having a child–some of which may be challenging for teen parents.
  "If everyone had to care for one of these babies for even a day, I think there would be a major impact on the number of teen pregnancies," Cortez said. "They would see how hard it is to care for a baby as a teenager."
  The lessons over infant care brought  a deeper understanding of what it takes to be a parent, even if the baby didn't develop an attachment to its "parent".
  "I think I still want to have kids, but not right away," Felan said. "It was just a robot baby. It does simulate a real baby, but real babies have expressions that a robot can't recreate."