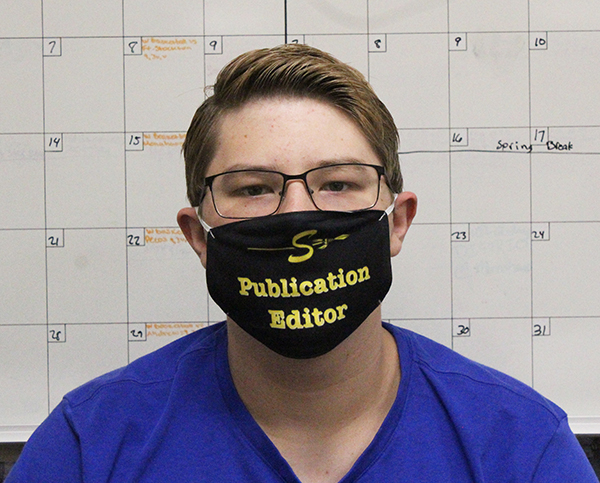 Senior year is a great time to start reflecting on the past and considering how you got where you are today. It is fascinating to think about the most miniscule circumstances that shaped you as a person today. In the future, when I reflect on what happened during my senior year, I want to see the positives and how I changed for the better, how I grew as a person, and sought out new, interesting experiences. So whether you're a senior or an underclassman, I'd like you to listen to my bit of advice:
This year is going to be certainly difficult and challenging at times. Traditions are going to get canceled, fear is going to spread, and the unexpected will happen. It's easy to get caught up in it and get overwhelmed. Despite all of this, it's not time to mope around. Use these strange times as a motivator to grow as a person, to strengthen yourself in the face of new hardships. When the near future rolls around, don't remember these times for the facemask dotted hallways, the anxiety over confirmed cases, the sappy commercials crying about "these uncertain times", or the people preaching about "the new normal." Remember how you'll have succeeded in the face of unforeseen situations. Make this school year count so you can reflect on it triumphantly and without any regrets. As I said before, this year I'm going to try my very hardest to learn as much as I can and exit my comfort zone. I hope that you'll do the same.
Now that we're past the long-winded advice, I guess I should give you an insight into my life. Everyone at this school probably mentally associates me with cats, and that's for a good reason. I have three, and I never shut up about them. I have the affectionate and secret weapon of mass destruction Velvet, the large and extremely vocal Bella, and the king of the backyard Catrick Swayze.
I'm also very into video games. Not only do I enjoy playing them, but I also enjoy looking at them as an art form. I like to observe the passion developers put into them, from the care put into game mechanics, the stories and worldbuilding, and the smallest details that combine to make the experience of the game great. I have to own up and admit that I owe a lot of my writing prowess to all the time I've spent playing games with great storytelling. Yes, writing is my most treasured and beloved hobby, if it wasn't already obvious. I do plan on writing books one day once I find the time…and the motivation, ha.
I also enjoy speech quite a bit, which I've been told is unusual for someone like me. I just find it enjoyable to do what some people fear more than death itself. No problem with that.
I'm imagining if people were to take a look at my success in what I enjoy, my grades, and how I cherish my life, they'll perhaps think that I have everything figured out. I do not. At all. After I finish writing this bio, it's back to reluctantly sinking deeper into preparing for college and finishing up assignments for the most difficult classes I've had to face yet. I can see myself in ten years, and even then I still don't believe I'll have everything figured out.
This last piece of advice goes out to anyone of any background reading this, who thinks that they have to have everything figured out and is scrambling to do that, who feels terrified of the future or even feels inadequate. You do not have to figure everything out right at this moment. Sure, be prepared for the future you're aiming for just in case, but don't forget about the present and how to enjoy it. All you can do right now is seek out what makes you happy, keep your goals in mind, and strive to improve yourself little by little. That's it. As long as you remember that, you can embrace the future with ease. 
Bradley Everett, Staff Writer/Editorial Board/Videographer
Dec 18, 2020

SkillsUSA refurbishes bikes for local children

(Story)

Nov 11, 2020

I'M JUST SAYING: New PlayStation hits stores on Nov. 12

(Story)

Oct 27, 2020

MASKING MENTAL HEALTH: Pandemic brings emotional issues to forefront

(Story)

May 08, 2020

I'M JUST SAYING: Pandemic brings out some positives

(Story)

Apr 17, 2020

I'M JUST SAYING: Social distancing brings us closer together

(Story)

Dec 16, 2019

I'M JUST SAYING: Family memories make holidays

(Story)

Oct 23, 2019

I'M JUST SAYING: Dangers deter driving for now, maybe forever

(Story)

Mar 26, 2019

I'M JUST SAYING: Independence comes from teamwork

(Story)

Feb 01, 2019

I'M JUST SAYING: Sifting through gaming options as a student of digital world

(Story)

Dec 10, 2018

I'M JUST SAYING: Eternal struggle–cats versus dogs

(Story)

Oct 23, 2018

I'M JUST SAYING: I've got some peeves over language

(Story)