Swimming hosts double dual meet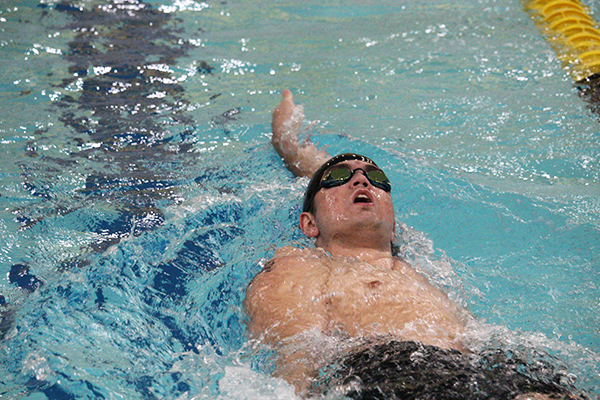 The Aqua Tribe finished above Big Spring and behind Andrews in its first action as it hosted a dual meet on Oct. 8.
Results
Women's 200-meter medley relay–team of sophomore Ana Nevarez, junior Samantha Gutierrez, junior Natasha Fehr and sophomore Stephanie Hiebert took fourth (2:50.03).
Women's 200-meter freestyle–Gutierrez-second (2:54.71), junior Amber Wilkey-third (2:56.95), Fehr-sixth (3:19.83).
Men's 200-meter freestyle–sophomore Luis Gameros-eighth (3:06.11)
Women's 50-meter freestyle–Nevarez-third (33.63), Hiebert-sixth (36.14), freshman Megan Neufeld-ninth (39.44), freshman Stormy Coon-10th (39.80), sophomore Elizabeth Harder-11th (40.30), sophomore Laura Garcia-12th (40.91), freshman Karyme Martinez-13th (42.90), sophomore Sami Nix-16th (44.79), junior Perla Garcia-18th (47.26), freshman Amy Thiessen-21st (51.58)
Men's 50-meter freestyle–sophomore Clayton Lee-2nd (29.49), junior Gunner Presley-fifth (30.33), sophomore Jordan Neufeld-8th (31.68), sophomore Ian Ramirez-10th (34.17), sophomore Jose Conejo-11th (34.81)
Women's 100-meter freestyle–Hiebert-sixth (1:23.83), Neufeld-7th (1:27.83), L. Garcia-8th (1:34.65), freshman Karyme Martinez-9th (1:37.24), Coon-10th (1:40.13), P. Garcia-13th (1:58.74), Nix-14th (2:02.93)
100-meter freestyle–Lee-eighth-(1:12.34), Conejo-10th-(1:19.28), Neufeld-11th (1:25.95), Ramirez-12th (1:28.29)
Women's 400-meter freestyle–Gutierrez-fourth (6:11.06), Wilkey-sixth (6:21.95), senior Hailey Blair-seventh (7:18.70)
Women's 200-meter freestyle relay–team of Nevarez, Wilkey, Hiebert, Gutierrez-fourth (2:21.84), team of Nix, Harder, Neufeld and Blair-seventh (2:52.50)
Men's 200-meter freestyle relay–team of Presley, freshman Ryan Lee, C. Lee and senior Andy Proffer-third (2:02.43), team of Conejo, Ramirez, Neufeld, Gameros-fifth (2:21.62)
Women's 100-meter backstroke–Nevarez-seventh (1:43.99), Blair-10th (1:56.23), Harder-11th (1:57.76)
Men's 100-meter backstroke–Proffer-second (1:18.71), R. Lee-sixth (1:46.02)
Women's 100-meter breaststroke–Fehr-second (1:34.55)
Men's 100-meter breaststroke–Proffer-first (1:20.25), Gameros-ninth (1:47.37)
Women's 400-meter freestyle relay–team of Fehr, Neufeld, Blair, Wilkey-fourth (6:40.65)
Men's 400-meter freestyle relay–team of Presley, Neufeld, R. Lee, Proffer-fourth (5:03.95), team of Ramirez, Gameros, Conejo and C. Lee-fifth (5:30.65)