Three doubles teams advance to regional tennis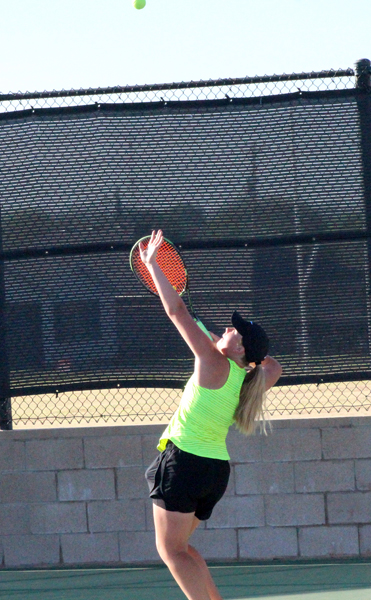 Hang on for a minute...we're trying to find some more stories you might like.
Three doubles teams advanced to the Region 1-4A tennis tournament after district play on April 8 and 10 in Seminole. First and second places in district advance to the region level. Regionals will be held at the Texas Tech McLeod Tennis Complex on April 18-19.
Juniors Jasmin Klassen and Lauren Smith took the championship in women's doubles taking the final match 6-3, 6-2 over Andrews' Jeppesen and Durham.
Sophomores Justin Giesbrecht and Daniel Fehr took second in men's doubles, falling in the final 4-6, 6-4, 6-2 to Pecos's Dominguez and Machuca.
The mixed doubles pair of sophomore David Wiebe and junior Julie Enns won a tiebreaker on April 10 to advance in second place, defeating Monahans's Torres and Denson 6-1, 7-6.
Senior Taylor McGehee took third in women's doubles, while the doubles team of sophomores Paulina Morales Mendoza and Marcela Guevara took third in women's doubles.
District Results
Men's Singles
Round One
C. King of Fort Stockton defeats D. Serrano of Pecos (6-0, 6-4)
Quarterfinals
D. Sanchez of Fort Stockton defeats T. Rogers of Monahans (6-0, 6-0), C. Flores of Andrews defeats freshman Blaine Dyck (6-2, 6-3), C. King of Fort Stockton defeats freshman Danni Klassen (6-3, 6-0), J. Slaughter of Andrews defeats G. Hinojos of Monahans (6-0, 6-0)
Semifinals
D. Sanchez of Fort Stockton defeats C. Flores of Andrews (6-1, 6-2), J. Slaughter of Andrews defeats C. King of Fort Stockton (6-0, 6-1)
Third Place Finals
C. King of Fort Stockton defeats C. Flores of Andrews (6-0, 6-3)
Championship Finals
D. Sanchez of Fort Stockton defeats J. Slaughter of Andrews (6-1, 6-0)
Women's Singles
Quarterfinals
T. Rondan of Andrews defeated M. Dixon of Monahans (6-0, 6-1), J. Ureste of Fort Stockton defeated J. Serrano of Pecos 6-2, 6-1), N. Galvan of Andrews defeated J. Sauceda of Monahans (6-0, 6-2), senior Taylor McGehee defeated E. Valeriano of Pecos (6-0, 6-0)
Semifinals
T. Rondan of Andrews defeated J. Ureste of Fort Stockton (6-1, 6-1), N. Galvan of Andrews defeated McGehee (6-2, 6-1)
Third Place Finals
McGehee defeated J. Ureste of Fort Stockton (6-3, 6-2)
Championship Finals
T. Rondan of Andrews defeated N. Galvan of Andrews (6-2, 6-1)
Men's Doubles
Round One
S. Rodriguez and P. Gonzalez of Fort Stockton defeated B. Riggins and C. Collins of Monahans (6-4, 6-4)
Quarterfinals
J. Nguyen and A. Figueroa of Andrews defeated S. Rodriguez and P. Gonzalez of Fort Stockton (6-1, 6-4), A. Dominguez and C. Machuca of Pecos defeated freshman Franz Fehr and sophomore Justin Giesbrecht (6-1, 6-1), J. Cortes and C. Curry of Andrews defeated A. Velasquez and C. Ramirez of Fort Stockton (6-0, 6-3), sophomores Justin Giesbrecht and Daniel Fehr defeated J. Guerra and D. Dominguez of Pecos (4-6, 6-4, 7-5)
Semifinals
A. Dominguez and C. Machuca of Pecos defeated J. Nguyen and A. Figueroa of Andrews (6-1, 6-4), sophomores Justin Giesbrecht and Daniel Fehr defeated J. Cortes and C. Curry of Andrews (6-3, 6-2)
Third Place Finals
J. Cortes and C. Curry of Andrews defeat J. Nguyen and A. Figeroa of Andrews (6-3, 6-2)
Championship Finals
A. Dominguez and C. Machuca of Pecos defeated sophomores Justin Giesbrecht and Daniel Fehr (5-7, 6-3, 7-5)
Women's Doubles
Round One
S. Caldwell and A. Almanza of Monahans defeate A. Orosco and L. Mora of Pecos (6-1, 6-4), S. Galindo and M. Sanchez of Fort Stockton defeat A. Ortega and M. Reyes of Pecos (6-0, 6-0)
Quarterfinals
Juniors Jasmin Klassen and Lauren Smith defeat S. Caldwell and A. Almanza of Monahans (6-1, 6-1), L. Ureste and K. Cope of Fort Stockton defeat A. Mora and M. Martinez of Andrews, sophomores Paulina Morales Mendoza and Marcela Guevara defeat P. Patel and D. Porras of Monahans (7-5, 4-6, 6-4), K. Jeppesen and S. Durham of Andrews  defeat S. Galindo and M. Sanchez of Fort Stockton (6-3, 6-2)
Semifinals
Juniors Jasmin Klassen and Lauren Smith defeat L. Ureste and K. Cope of Fort Stockton (6-2, 6-0), K. Jeppesen and S. Durham of Andrews defeat sophomores Paulina Morales Mendoza and Marcela Guevara (6-4, 4-6, 6-1)
Third Place Finals
sophomores Paulina Morales Mendoza and Marcela Guevara defeat L. Ureste and K. Cope of Fort Stockton (6-1, 6-0)
Championship Finals
Juniors Jasmin Klassen and Lauren Smith defeat K. Jeppesen and S. Durham of Andrews (6-3, 6-2)
Mixed Doubles
Round One
Sophomore James Giesbrecht and freshman Alyssa Gonzales defeat M. Baeza and J. Salas of Pecos (6-3, 5-7, 6-3)
Quarterfinals
M. Blackshear and L. Ramos of Andrews defeat sophomore James Giesbrecht and freshman Alyssa Gonzales (6-0, 6-0), P. Torres and J. Denson of Monahans defeat A. Gonzalez and J. Gonzales of Fort Stockton (6-3, 6-4), B. Carrilo and K. Pacheco of Fort Stockton defeat J. Ontiveros and K. Argabright of Andrews (6-4, 7-6), sophomore David Wiebe and junior Julie Enns defeated A. Riggins and E. Hernandez of Monahans (6-3, 6-2)
Semifinals
M. Blackshear and L. Ramos of Andrews defeat P. Torres and J. Denson of Monahans (6-2, 6-2), sophomore David Wiebe and junior Julie Enns defeat B. Carrillo and K. Pacheco of Fort Stockton (6-2, 6-2)
Championship Finals
M. Blackshear and L. Ramos of Andrews defeat sophomore David Wiebe and junior Julie Enns (6-3, 6-0)
Tie Break for Second and Third
Semifinals
P. Torres and J. Denson of Monahans defeat B. Carrillo and K. Pacheco of Fort Stockton (7-5, 6-3)
Tie Break Finals
Sophomore David Wiebe and junior Julie Enns defeat P. Torres and J. Denson of Monahans (6-1, 7-6) to take second and advance to regionals