GOOD SPORT: Hoop season is my favorite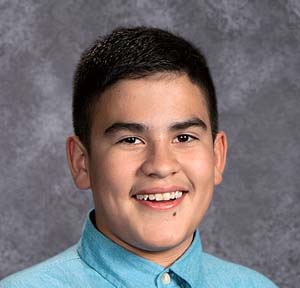 Hang on for a minute...we're trying to find some more stories you might like.
Whenever I shoot the ball, and it's a swish or, as my teammates and I like to call it, "water". We call it water because that means your shot just swished. I don't really know where "water" came from, but it's lit, so it doesn't matter. I only like to use "water" depending on if I am having a good game.
Basketball season is my favorite time of the year. I can't wait to start the season and ball with my brothers out on that court. I like the competition and being able to go out there and play against many other teams. This sport motivates me to become better every day. Shout out to Carter "C.J." Johnson for putting me through a workout about a week ago. Thanks, brotha. Basketball, I love you so.
College basketball is one of my favorite things to watch because of the level of competitiveness. The intensity is unreal. My favorite college team is the Oklahoma Sooners, who in my opinion, are the best team in college basketball right now. They added a new five-star recruit in Trae Young and some other good players which was a great move because they needed help after Buddy Hield left. I think they can compete for a national championship. My favorite part of college basketball is March Madness when 64 teams duke it out for supremacy. The players make all these circus shots including the ones that win them the games. I'm hoping this year Oklahoma makes it, and they go far in the tourney.
I love to watch the pros as well. I like when they go up for alley oops, or when it's crunch time, they pull through and take a "dub" when the game is over. I love to watch Dwyane Wade because his level of basketball IQ is great, and he is a great mid-range shooter and a great defender unlike James Harden. The pros compete each year for a Larry O'Brien trophy. When the Warriors played the Cavaliers, it was one of the greatest basketball battles of all time. I remember when Lebron James led Cleveland to its first title ever, and then he said. "This is for you, Cleveland." That was a great moment in basketball history. It was a very competitive series which I believe the Warriors should have won because they were up 3-1.
I believe our Indian team will be great this year. I want them to go out there and get a state title. Seeing those guys play makes me amazed at how good they are. This year is our year because last year we were three seconds away from the state tournament. No one can ever predict a buzzer beater, though–it either goes in or it doesn't. Adding Jalen Brattain helps us because of his height advantage and his shooting accuracy. I'm glad I have one more year to watch the varsity go win it.