Lifters host home invitational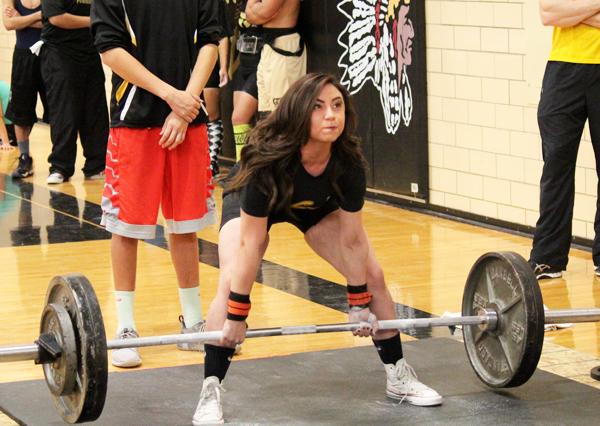 The Indians powerlifting team will compete on Feb. 20 in Seagraves, and the Iron Maidens will compete in Andrews on the same day.
Both teams competed in the Seminole meet on Jan. 30. The Maidens took second and the Indians took fifth.
"Everyone has progressed in this meet," junior Nick Acosta said. "We are really coming together despite being really young and a team we built from scratch."
Ten Indians placed at the home meet for 11 total points, while seven Maidens combined for 41 points. Senior Madi Werner placed first, lifting 710 total pounds.
Werner took third in state last season and said she wants to get back there this season.
"I just need to keep working harder," Werner said. "If I do what I did last year working hard and increasing my weight, I will go back to state this year."
Meet Results from Jan. 30
Maidens–2nd (41 points) 105-pound class–Madi Werner 1st (255+175+280=710);
114-pound class–Amanda Rodriguez 1st (240+155+285=680), Brittany Espinoza third (225+130+245=600);
148-pound class–Tori Acosta 2nd (230+130+270=630);
165-pound class–Vanessa Perez 2nd (270+145+310=725);
198-pound class Destiny Perez 1st (265+125+245=635); 220-pound clas–Brianna Lujan 1st (280+110+265=655)
Indians–5th (11 points)
123-pound class–Justin Guffey 4th (195+130+235=560), Antonio Arreola 6th (145+100+235=480);
132-pound class–Nick Acosta 5th (300+215+355=870);
148-pound class Isaiah Marquez 9th (255+185+325=765); Chris Arzate 14th (245+160+260=665); Hayden Gray 15th (210+145+220=575);
165-pound class–Adrian Alvidrez 5th (340+215+370=925);
198-pound class–Ariel Delgado 8th (310+180+300=790), Daniel Rodriguez 9th (240+135+270=645);
220-pound class–Austin Kelly 15th (310+200+280=790);
Super heavy weight class–Johnny Fehr 3rd (440+260+400=1100)
Leave a Comment