OUR VIEW: Good will should not be selective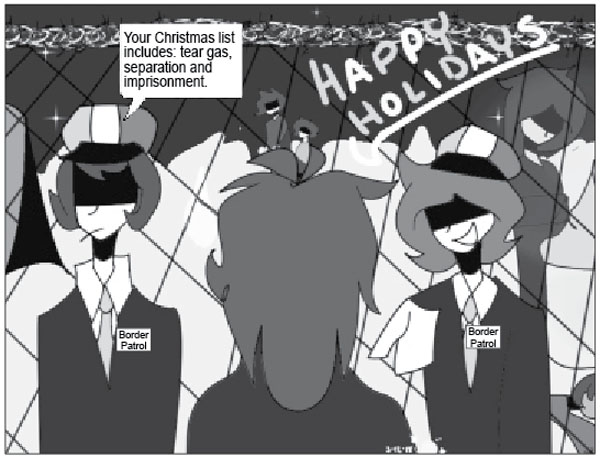 No matter where you stand on the issue with the migrant caravan, you must recognize that the soldiers at the border are not the only ones who are facing changes this holiday season. Hundreds of Central American families are away from their former homes, trying to make better lives for themselves. They will spend the holidays in a foreign place, some separated from other loved ones by human trafficking and drug cartels, all homeless, for now. 
  Recall a similar situation where different sides met in the middle during the holidays, families separated by duty. World War I's Christmas Truce of 1914.  It started with simple singing. Most likely lonely, American and British soldiers sang traditional carols to each other across the neutral zone. Eventually, Allied soldiers heard brass bands playing along as Germans joined the songs in their own way. The enemy dwas celebrating with the Allied troops. Country and duty and loyalty and even ugly, brutal war faded. 
  It was Christmas Eve, and all anyone wanted was to experience fellowship and love. 
  The next morning, the Germans showed unimaginable courage and faith. They climbed from their trenches, crossed No Man's Land. Thick, German accented voices called out, "Merry Christmas" in English. Green and khaki met and shook hands. 
  It was Christmas, and all they wanted was to experience fellowship and love. 
  And they did. These soldiers exchanged gifts; they played soccer. 
  Even in the bitterest of wars, the spirit of Christmas prevailed. We can only hope that something similar will happen this Christmas.
  Can America, in the spirit it was founded in, reach across some barbed wire and through fencing in the spirit of the holiday. Can we embrace mothers and children searching for the same shelter as the first mother and child during that first Christmas?
  If two sides in one of the bloodiest wars can set aside differences at Christmas time, why can't we do the same.
   Holidays should be a time of togetherness, love and tradition. All anyone should want is to experience fellowship and love.