MY VIEW: Someone important is missing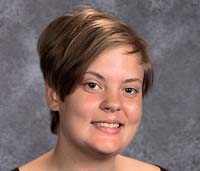 Hang on for a minute...we're trying to find some more stories you might like.
 Her feet used to pound against the pavement of the parking lot. Sometimes for cross country, sometimes for band. Her feet were important to us; she is important. Important, vital even, but gone. 
  Itzel isn't dead, but she has been taken away. Her family is divided between two countries. Her parents and siblings are in Mexico, while her aunt and cousins are here in the states. Between 2010 and 2012, more than 200,000 deportation orders affected children like Itzel.
  She moved in with her aunt, and came to us her fifth grade year. As soon as she could, she got involved. In the sixth grade, she mastered the saxophone, competing in all-region and advancing as a freshman, which is rare. 
  In the seventh grade, she joined cross country. She helped bring our cross country team to region as a freshman, another rarity. She is important.
  It's more than her achievements. It's her quirky smile, her contagious laugh. Even those of us who are two or three years older than Itzel noticed her and saw how wonderful she is. She is perfect friend material, always chasing away your bad mood, always waiting to listen to your rant, always having an open, strong shoulder to cry on, judgment-free. 
  I still have pictures on my phone that she sent me during the band trip to Disney World over the summer. Every single photograph captures her–she's real to the camera, she doesn't hide. In the photo at Epcot with Chip and Dale, she looks as exhausted as we all felt, but her bright smile is still holding on. She's beautiful, despite Florida's awful humidity and the aching in her feet. There's a photo that she took of the entire group on the bus home. I'm hardly able to stand, and I look like I may punch her for daring to take my picture, but her smile is there anyway, blinding me. She's beautiful. She's happy. She is important.
  I'll be honest, I didn't hang out with her that often. There were shared snacks and giggles on the band bus when we traveled to away games and the occasional polite greeting in the hallway, but we were never super tight. Like I said, though, I noticed her. I noticed her amazing personality, but I never bothered to invest in a true friendship with her. I see now what an amazing friend I cheated myself out of, now that her smile isn't brightening the cafeteria, now that her laugh isn't filling the charter bus.
  Now that she isn't conquering her difficult world and taking our town by storm.
  Understandably, her family missed her and wanted her back home. Her parents tried to emigrate, but they couldn't. She lived with her aunt and uncle, but it wasn't the same as coming home to her mother's warmth after a hard day or her father's horrible dad jokes when she was upset. She is important to us, but she is more important to her family. Her parents need her help with her younger siblings; they need their oldest daughter, period. She is important, and she is missed, but she is with her family, and that's what matters. If only this country could see how important the sound of her feet are here with her parents.