SkillsUSA students compete in district, 39 qualify for state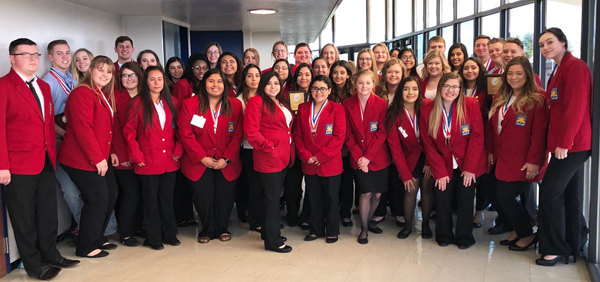 Thirty-nine SkillsUSA members qualified for state in 21 events at district competition in San Angelo on Feb. 22-23. State qualifiers must take first or second place to advance.
In SkillsUSA culinary competition, the quiz bowl team of senior Jennifer Penner, senior Nikki Fehr, junior Rita Klassen, junior Evalin Friesen, junior Lisa Rempel, and junior Katelyn Loeppky took first.
The team of Rempel, junior Bianca Galvan, senior Johana Moreno and Fehr took first in American Spirit.
Fehr also took second in chapter pin design.
Galvan was elected as a district officer.
In SkillsUSA cosmetology, junior Valerie Martens took best of show with her 3D nail project.
The team of senior Ruby Reyes. junior Alondra Alderete and senior Miracle Gonzales took first in emblem ceremony.
Reyes, Alderete and Gonzales also took second in chapter display.
In SkillsUSA health sciences, sophomore Kaylee Guffey was first in medical terminology, while junior Karah Lambert took second.
In medical math, junior Natasha Pizarro was first, while sophomore Alyssa Parra was second and Guffey was third.
The team of senior Amy Segura, senior Christina Ramirez, junior Adamaris Rodriguez Peregrino and Parra took first in health knowledge quiz bowl.
In first aid/CPR, senior Emily Marquez took first, while Segura was second.
In SkillsUSA construction, senior Shelby Addison, senior Hayden Gray and freshman Dylan Klassen all advanced to state competition although individual places have not been announced yet.
In SkillsUSA career prep, the team of junior Destiny Conejo, sophomore Kalyna Garcia and freshman Jose Conejo took first for promotional bulletin board.
D. Conejo also took first for chapter pin design. She also took third in prepared speech.
In related technical math, senior Landry Ritchey took second.
In customer service, senior Alexis Howard was third.
D. Conejo and Garcia were elected as district officers.
In SkillsUSA automotive, the team of senior Sydni Spence, sophomore Jarell Banman, and senior Alexandra Wall took first in community service project.
The team of Spence, sophomore Elizabeth Jurado, junior Ethan Ruthardt, sophomore Brody Crawford and senior Adrian Tarin took first in automotive quiz bowl.
In motorcycle repair technology, junior Randy Goertzen was first, sophomore Henry Funk was second, and Spence took third.
In power equipment technology, Crawford was first, Ruthardt was second, and Wall took third.
Banman took third for automotive light repair.
The chapter took first place for business procedure.
Banman and Jurado were elected district officers.