Sutherland Springs shooting intensifies firearm debate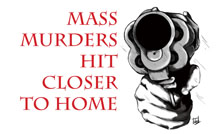 Hang on for a minute...we're trying to find some more stories you might like.
A mass shooting in Las Vegas seemed so far away, but then on Sunday, Nov. 5, it became a Texas problem when a church in Sutherland Springs experienced the worst mass shooting in Texas history.
"It's really just horrible," senior Celestia Wilkey said. "After hearing about it, I'm not immediately afraid of something like that happening here, but that doesn't mean it's not possible just because it wasn't prevalent in our area."
With two mass shootings in a little over a month, Americans struggle with how to stop these atrocities from happening. "We need to prevent something like this from happening again," freshman Cathryn Johnson said. "The U.S. should take a step forward in the situation as a precaution and not overlook the issue. Because Las Vegas is so far away, it's harder to imagine something like this happening, but it's closer to us now. It makes the problem more apparent."
Gun owners argue that it is their Second Amendment right to own guns. The conflict comes with the distinction of what type of firearms people should be able to possess.
"The Second Amendment established militias and hunting when it was made, favoring the idea of gun control against assault weapons," U.S. history teacher Call Barnard said. "Another side to that is the general idea that it allows the people to resist tyrannical government."
Barnard said that one of the driving forces of the law was the fact that private owners in the 1800s had more ammunition. "Private gun owners had more supplies than the army," Barnard said. "Counting the amount of powder and musket balls, each soldier would get an average of nine shots. The citizens who owned guns had way more provisions in stock. Because of that, the Second Amendment was to resist an oppressive government or prevent a government from becoming oppressive."
According to the Brady Center, currently firearms are the second leading cause of death for children and teens every year. Nearly 60 percent of youth firearm deaths take place in a home, and 1.7 million children live with unlocked, loaded firearms where they live. In a study done by the University of Sydney (Australia) in 2013, the United States ranked number one in gun deaths with three times as many gun deaths as the next ranking country which was Israel.
"I knew that it was a problem, but I didn't know it was that bad," sophomore Aubrey Hewitt said. "Maybe that just shows that we need to be stricter about who can have a gun."
In a recent poll of 146 senior government or economics students, 17 percent said they did not have a gun in their home.
"I believe that I'd feel more comfortable if there were more extensive background checks done," one senior commented on the survey.
The Brady Center reported that 36 percent of adults in Texas have a household firearm. Among SHS seniors, 83 percent said that there was a gun in their home. Twenty-six of those seniors said they kept a gun in their vehicles.
"Keeping a gun in your car is against school policy and the law," Assistant Principal Randy Hicks said. "Guns are not allowed in student vehicles on school premises."
On Sept. 1, several handgun licensing restrictions were relaxed in Texas. Senate Bill 16 reduced the application fee from $140 to $40. It waived application fees for active Texas peace officers and Texas military forces.
House Bill 435 allows volunteer emergency services personnel to carry a handgun, but it allows hospitals to post signs banning handguns from their premises.
House Bill 867 allows private schools to appoint a school marshal who can load a handgun with ammunition "designed to disintegrate" or duty ammunition approved by the Texas Commission on Law Enforcement.
In 2015, Seminole Independent School District adopted the state's plan of school marshals which allows a school employee to carry a concealed weapon as long as that person completes required Texas Commission on Law Enforcement training and "is psychologically fit to carry out the duties of a school marshal as indicated by the results of a required psychological examination."
"The fact that we could have someone like that in our school makes me feel safer," sophomore Makenzie Laramore said. "In case of an emergency, that person can offer protection."
While gun owners do not want the government to ban their firearms, many believe that the screening process for gun owners could be better. Senior Eric Reimer, who is a gun owner, sees gun regulation as a give and take situation.
"There should be more ownership screening, but you can't just add that because it feel like the government is just taking more and more, " Reimer said. "The government needs to give back to establish trust with gun owners."
When he took office in January, President Donald Trump overturned former President Barrack Obama's regulation that the mentally ill could not purchase firearms. This probably would not have helped in the Sutherland Springs killing because the files for shooter Devin Kelley did not include his stays at mental institutions after he was discharged from the military for conduct related to his mental state.
"I think the process should be more difficult to obtain a gun," government/economics teacher Tanner Moore said. "We should be careful about who can get a gun."
In Texas in 2015, 3,284 cases were reported by hospitals due to firearm-related injuries, and 298 of those cases eventually ended in fatality. Gun safety was an issue in many of those cases.
Twenty-four percent of SHS seniors said they had either been shot or knew someone who had been shot which ranged from a family member shooting a student's mother, to a family member committing suicide, to an acquaintance who was drunk and shot himself, to relatives being shot by police. One of the most common occurrences listed by seniors was accidents related to cleaning guns.
"Someone I knew was drunk and out hunting with his friends," Reimer said. "He was cleaning his gun and shot himself in the mouth."
While 51 percent of seniors said their guns were kept in a gun safe, 25 percent said their gun(s) were in a bedroom and 15 percent said they kept a gun in a drawer.
Seventeen percent of seniors said they didn't learn any gun safety, while the majority, 74 percent, said they learned gun safety from a family member. Art teacher Brice Autry said he learned safety from his father.
"He sat down with me and we looked at it [gun]," Autry said. "He let me hold it without ammunition. He showed me where to point and where not to, and after that, now with ammunition, we went outside, and he taught me how to shoot dove. We were with my brothers, so we were all very careful about where we were pointing."
Autry said he had an experience with someone who had not learned gun safety.
"My dad took us out with a friend of mine," Autry said. "He had apparently not been taught. My dad was very strict about us always having our safety on unless we were about to shoot, but this friend had his off while he wasn't using the gun. He lowered his arm, and it accidentally shot. It missed his foot, but it could have taken it off."
Students in agriculture classes can take an online hunter safety course. Ag instructor Mary Savage said that the course teaches respect for wildlife, knowing when to shoot and when not to, and what a person can or cannot hunt depending on the season. The course includes a field day, but only if a student is 16 years or older.
The main reason seniors said they have guns in their home was for protection (77 percent) while 58 percent said they had guns for recreation and hunting. One student on the survey said, "You should always eat what you kill."
While a majority of households in rural Texas may have firearms for practical reasons, the increase in senseless killings like Sutherland Springs have put legislators on the defensive, especially if they are taking funds from the National Rifle Association. Those in favor of stricter gun restrictions feel the legislators are sacrificing innocent life for campaign finance.
Massacres like the Las Vegas incident, which involved 500 victims, and the Sutherland Springs massacre, which killed 26 people and an unborn child, trigger emotional responses and calls for tougher gun laws.
"Mass shootings and the loss people have to deal with because of them are the reasons that the topic is so upsetting," Moore said. "The violence caused by the use of guns polarizes the country."