Braving pandemic for cosplay experience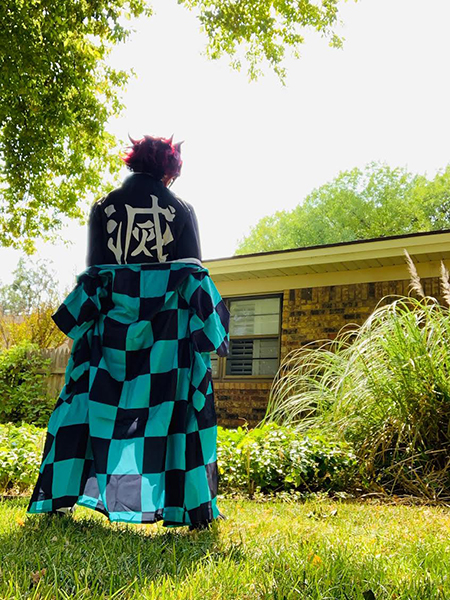 As my senior year began, I saw a light at the end of the tunnel… Nothing too severe, just that I got a notification that the Permian Basin Comic-Con in Midland was back on. 
  If I recall, the original con was supposed to take place in March. As we all know, March was a difficult time to have crowded areas. So, the Con found it best to postpone it until further notice. Well, further notice is now. In the time the postponement came around, I already had two cosplays on me. At first, I was just going to go on Saturday and be the duo with my dad, but since we decided that Con was going to be my birthday party, I get to go both days and wear both of my cosplays.
  My first one is of a girl named Llenn from Sword Art Online: Alternative, and my dad is going as her friend M. This was my dad's and my idea. We had gone to a convention one other time together, and he didn't like not being dressed up. So, we're matching for our first one. My second is Tanjiro Kamado from Demon Slayer; he isn't matching with me on this one, mostly because I bought Tanjiro with my own money. 
  There is a large part of me that is scared to go, mainly because the virus is still a thing. The convention center has put rules in place to keep the attendees safe with sanitization areas scattered everywhere, half capacity, masks, socially distant booths, and live panels with celebrities. Plus, they moved to a new convention hall from the one that I had gone to a few years back. This one is HUGE; it looks like an actual official convention center like those in California. 
  The last time that I went to a Comic-con, it was the same con (Permian Basin), but I wasn't nearly as prepared as I am now. The first time, I went in a rushed Cuphead cosplay, and it was VERY intimidating to see all these people who looked amazing. I felt like I was wearing a Halloween costume compared to all of them! Granted, I did get a lot of people who wanted to take a picture with me, and I also got a lot of pictures with other people. I think the coolest person I saw there was someone in a Gaster cosplay from Undertale. In the picture we took, they were drinking out of the little straw headband I was wearing. It gave me a little giggle.
Ideally, I'd like to make some friends this time around. I didn't really talk to anyone last time, but I think this year, I'm going to break out of that shell and make some cosplay buddies. Heck, I'm 18 now; maybe that's my wish–make as many cosplay friends that I can. No fear.