SOUNDBITE: Peter Rabbit worth the hype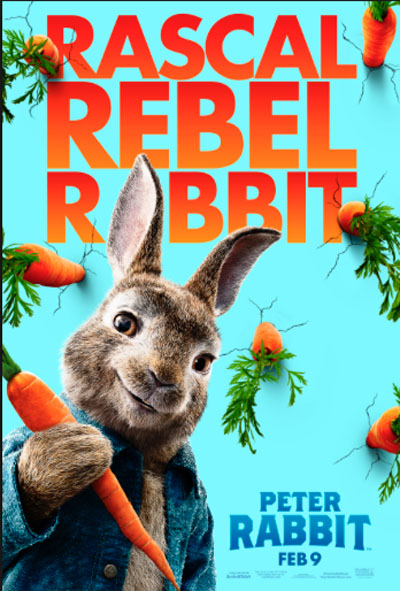 Hang on for a minute...we're trying to find some more stories you might like.
Peter Rabbit  ♦♦♦♦♦ Rated PG
As one who has seen her fair share of bad CGI-created animals, I'm always wary when it comes to live action/animated films; however, I'm pleased to report that director Will Gluck's Peter Rabbit easily competes with the other cinematic masterpieces we've seen this year.
I basically grew up on author and illustrator Beatrix Potter's books, so, of course, seeing that her Tale of Peter Rabbit (1902) was coming to the big screen gave me a shot of giddy nostalgia (although the film's plot only loosely follows that of the book).
I honestly don't think Gluck and his team could've chosen a better cast to voice Potter's creatures. The lineup includes front man James Corden (Into the Woods) as the voice of Peter, superstar Sia (the artist behind the hit song "Chandelier") as the voice of Mrs. Tiggy-Winkle and Suicide Squad's Margot Robbie as the voice of Flopsy/ Narrator.
Viewers are led through the trials Peter and his family face over a bare necessity: food. First, its grumpy (and rather gross) old man Mr. McGregor (Sam Neill, aka Grant of Jurassic Park) and then with his great-nephew Thomas try everything they can to outsmart the bunnies and keep them out of their garden. I recognized Corden immediately when he introduced the first Peter Rabbit trailer. I knew audiences would be in for a barrel of laughs with his voice behind the protagonist. Even my dad was laughing. My mother and I had to share a moment of shock when we heard him.
I must admit, I was a bit worried when I looked around the theater and the majority of people around me were young children. I started to wonder if we were in for something from Nickelodeon. However, I assure you, this one is fun for the whole family. You remember Hop, right? Cute rabbit who didn't want to step up to the plate and be the Easter Bunny? Yeah. I enjoyed it, but not as much as I thought I would. Peter Rabbit is nothing like Hop.
I didn't think it was too childish. The story line is simple enough to keep younger viewers in the loop, but complex enough to keep their parents entertained (the small moments of more grown-up humor helped, as well).
As I was doing my preparatory research for my article , I noticed about six or seven articles over "allergy bullying" which, I learned, is usually bullying that includes threats with foods the victim is allergic too. Apparently there are several parents out for blood due to the film's scene including blackberries (I won't say more, because spoilers). I understand; food allergies can be very dangerous, but parents of children with food allergies are very vigilant. They do everything they can to ensure that their children remain independent so that he or she is able to safely and effectively inject their EpiPen if a parent isn't around. Viewers will see a character in the movie calmly and carefully inject his Epi. I think, if anything, the scene was a form of raising awareness.
Every once in a while, there will be a movie my family and I will see twice or even three times in the theater. Either nothing else is out or simply because we want to see it again. I would definitely say Peter Rabbit fits into the want to see again category. So, whether you're searching for something sweet and lighthearted to take your significant other to for Valentine's Day, baby sitting and want to treat the little ones, or just in the mood for clean comedy, this one is a definite must see.
Just remember, kids; playing with electricity and/or food to which others are allergic is never okay.