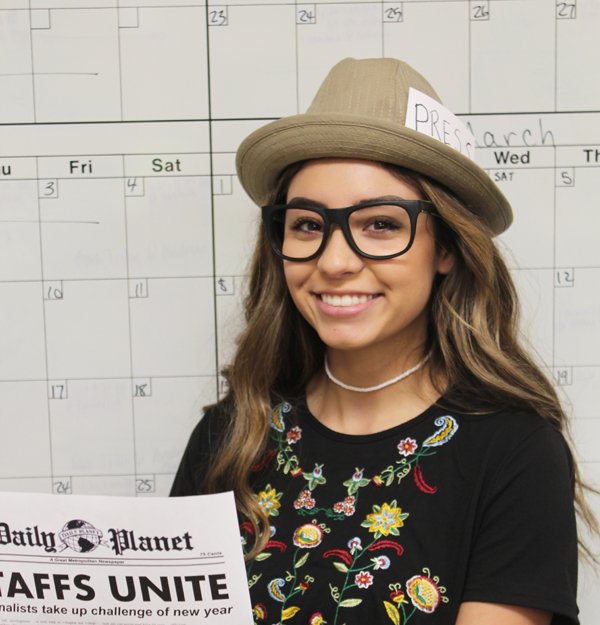 "We don't make mistakes. We make happy little accidents." -Bob Ross
My superpower is being brutally honest.
My kryptonite is conflict with others.
Katiniss Everdeen is my favorite fictional hero because she volunteered to go to the games for her sister.
My real real-life would be my mom because she is the backbone of my family, and she keeps us going.
This will be my third year of journalism, this year as an editor.
Aaliyah Ericson, Co-Editor in Chief
Dec 18, 2020

Maiden hoops host Cooper today

(Story)

Dec 11, 2020

BAG LADY: Tips for getting by with lots of gifts to buy

(Story)

Nov 20, 2020

LEGEND: Community celebrates two-time champion

(Story)

Oct 30, 2020

Tribe tennis advances to region quarterfinals

(Story)

Oct 28, 2020

SOUNDBITE: Witchy remake is good choice for spooky Halloween season

(Story)

Oct 23, 2020

Senior makes his own masks on 3D printer

(Story)

Feb 20, 2020

Four artists advance to state VASE

(Story)

Feb 14, 2020

People must be taught to love

(Story)

Feb 14, 2020

Indian baseball builds skills with first game in 10 days

(Story)

Jan 24, 2020

Maiden basketball takes district lead with win over Pecos

(Story)

Dec 20, 2019

Maidens travel to Permian, look toward district play

(Story)

Dec 12, 2019

SOUNDBITE: These are a few of my favorite holiday films

(Story)

Dec 02, 2019

SEMINOLE'S GOT TALENT: Education foundation hosts fundraiser

(Story)

Oct 25, 2019

Maidens clench playoffs, host Pecos tomorrow

(Story)

Oct 21, 2019

CHALLENGE FOR A CAUSE: NHS sponsors powder puff to benefit cancer patients

(Story)

Feb 08, 2019

9th Indians to meet Monahans tonight

(Story)

Feb 08, 2019

Win over Andrews keeps JV Indian basketball undefeated in conference play

(Story)

Dec 12, 2018

9th Indians face Central on Friday

(Story)