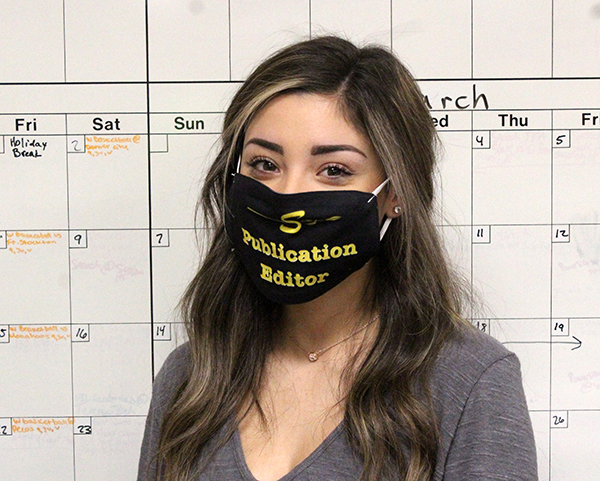 Hello,
Welcome and thank you for coming to read yet another and my last bio for the War Whoop newspaper. I started writing my bio, and it dawned on me--this is my last year in high school. Senior year got here faster than I anticipated, but I have some friendly news for  underclassmen--senioritis is a thing, as crazy as it sounds…I was infected the fourth week of school and found myself with very little motivation.
Live these last few years in high school like every day is your last. You'll never wish you had these days back till you're a senior and almost finished. I have met an abundance of beautiful people while in this school some of whom I am still friends with today. They have seen the good, the ugly, the sad, and some of the proud moments of my life. The only thing I wish I had done differently was live my first three years like every day was a gift because in reality, it is. I wish I wasn't so consumed in high school drama for my first three years. So, in shorter words for you, underclassmen, live freely, stay drama free, and keep the good friends close.  
I wanted my last bio to be my best, and I think I have executed it.
I have grown to love journalism. I have learned that I have a strong passion for writing, and through writing, I have grown into a completely different person. My first year of Journalism, I learned all of the basics. I had no clue I would grow to love what I do for the yearbook and the newspaper. I give a huge thank you to Ms. Williamson who kept telling me "Red is love." If it hadn't been for her, I wouldn't be who I am today.
Aaliyah Ericson, Co-Editor in Chief/News-Features Editor/Videographer
Dec 18, 2020

Maiden hoops host Cooper today

(Story)

Dec 11, 2020

BAG LADY: Tips for getting by with lots of gifts to buy

(Story)

Nov 20, 2020

LEGEND: Community celebrates two-time champion

(Story)

Oct 30, 2020

Tribe tennis advances to region quarterfinals

(Story)

Oct 28, 2020

SOUNDBITE: Witchy remake is good choice for spooky Halloween season

(Story)

Oct 23, 2020

Senior makes his own masks on 3D printer

(Story)

Feb 20, 2020

Four artists advance to state VASE

(Story)

Feb 14, 2020

People must be taught to love

(Story)

Feb 14, 2020

Indian baseball builds skills with first game in 10 days

(Story)

Jan 24, 2020

Maiden basketball takes district lead with win over Pecos

(Story)

Dec 20, 2019

Maidens travel to Permian, look toward district play

(Story)

Dec 12, 2019

SOUNDBITE: These are a few of my favorite holiday films

(Story)

Dec 02, 2019

SEMINOLE'S GOT TALENT: Education foundation hosts fundraiser

(Story)

Oct 25, 2019

Maidens clench playoffs, host Pecos tomorrow

(Story)

Oct 21, 2019

CHALLENGE FOR A CAUSE: NHS sponsors powder puff to benefit cancer patients

(Story)

Feb 08, 2019

9th Indians to meet Monahans tonight

(Story)

Feb 08, 2019

Win over Andrews keeps JV Indian basketball undefeated in conference play

(Story)

Dec 12, 2018

9th Indians face Central on Friday

(Story)