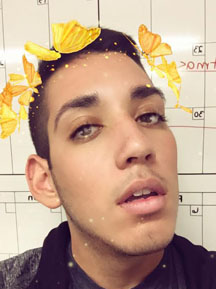 What's there to say about me? If you come around to it, I promise I don't bite very hard.
This is my third year in broadcast as well as my second year as a photographer.
Despite this offsetting opening about myself, I really am just a teddy bear. This is coming from the person who cries at the end of any series he finishes.
I consider myself very diverse. I mean you just have to look at my music playlist, one minute slow R&B to fast upbeat EDM.
I guess in a general perspective, meeting me is an extreme wildcard you're choosing.
My heart belongs to the water, but sadly as a swimmer I was born to the land. I make do with my abilities as is, and try my best to improve myself everyday, whether it is physically, emotionally, or mentally.
Aaron Espinoza, The BEAT Editor in Chief/Advanced Photographer
May 02, 2017

Prom moves to new venue

(Media)

May 01, 2017

Class of 2017 leaves its mark

(Media)

Apr 27, 2017

Veteran speaks to English classes

(Media)

Apr 27, 2017

Publications take 56 awards in state competition

(Media)

Apr 20, 2017

Track teams compete in area

(Media)

Apr 07, 2017

The BEAT Broadcast April 7, 2017

(Media)

Jan 10, 2017

Aqua Tribe qualifiers look toward region meet

(Media)

Oct 31, 2016

Aqua Tribe gets feet wet at Monahans Invitational

(Media)

Oct 17, 2016

The Pride of the Tribe to compete in region marching contest Saturday

(Media)

Sep 23, 2016

BUSINESS AS USUAL: Theater program goes through changes but keeps status quo

(Media)

Apr 28, 2016

Swimmers train for summer lifeguarding jobs

(Media)

Mar 21, 2016

Men's golf to begin district

(Media)

Mar 18, 2016

Maidens to begin district golf in Monahans

(Media)

Mar 01, 2016

The BEAT Special Report: Maiden softball and Indian baseball return to the diamonds

(Media)

Feb 25, 2016

Maiden softball in Wimberley Tournament this weekend

(Media)

Feb 12, 2016

The BEAT Volume 2, Number 5 (February 12, 2016)

(Media)

Feb 03, 2016

9th Maidens beat Greenwood again

(Media)

Jan 27, 2016

'GREASE' IS THE WORD: Musical earns funds for theater department

(Media)

Jan 26, 2016

Aqua Tribe qualifies individual, four relays for region contest

(Media)

Jan 08, 2016

Goliath storm paralyzes area

(Media)

Dec 11, 2015

MAKING SPIRITS BRIGHT: Cosmetology finishes last project with long-time leader

(Media)

Dec 11, 2015

Aqua Tribe hosts meet this weekend

(Media)

Oct 30, 2015

The BEAT Special Report: Halloween

(Media)

Oct 25, 2015

NHS hosts game for charity

(Media)

Sep 17, 2015

JV football takes out Fort Stockton in the fourth quarter

(Media)

Sep 14, 2015

StuCo turns back time: Seniors, Jaquez and Indians win homecoming competitions

(Media)