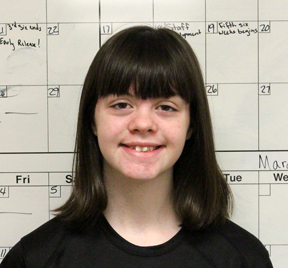 Hi. Yep, you guessed it, the last of the Mohicans! Or in this case, the last Franklin in journalism. I'm also the only Franklin child who would still take journalism even if I wasn't forced to be in here.
Something you should know about me is that I'm a very active person. I participate in journalism, choir, volleyball, basketball and track. Being in so many things has made me more outgoing which is something I think EVERYONE needs.
Oh, and did I mention I'm my parent's favorite child? (I hope my brothers don't read this…)
Last, I'm obsessed with tacos and whales! It's a serious problem; however, nobody judges me! At least that's what I've been led to believe…
Ok, ok, I get it! My brothers are better at this than me, but at least I'm more literate! Anyway, that's all I have to say about my "exciting life". I'm not sure how to end this so… PEACE OUT, GIRL SCOUTS!
Robin Franklin, Staff Writer
Feb 13, 2019

MY VIEW: Bullying is an everyday occurrence

(Story)

Feb 11, 2019

Holiday requirements add stress

(Story)

Dec 12, 2018

9th Maidens 7-5 on season

(Story)

Jan 31, 2018

Maidens face Lamesa Friday

(Media)

Sep 26, 2017

HOMECOMING 2017: Road home dominates come-back week activities

(Media)