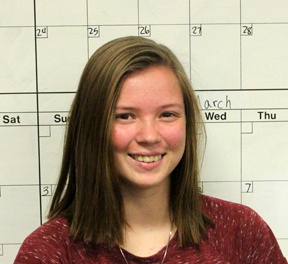 It's my senior year, and I am so excited to be a part of the journalism staff. I am a photographer and the photo editor.
I'm very bad at writing about myself. I am, however, very good at band. I play the clarinet, and I'm a varsity marcher.
For my senior year I have decided to take all AP/CC classes, but in all reality, it's pretty easy. I'm very indecisive and antisocial, so if you ever feel like talking to me, I probably won't talk back. It has nothing to do with you--I am just weird.
It is now way too late for me to think properly. (I don't function properly until I get my daily doses of coffee).
I love watching Veronica Mars (the series).
Melissa Moore, Photo Editor
Feb 08, 2019

Indian basketball hosts Monahans tonight

(Media)

Feb 07, 2019

Maidens to meet Clint in bi-district

(Media)

Oct 16, 2018

Homecoming takes familiar One Tribe theme

(Media)

Sep 10, 2018

Passion Project 2.0 approaches: Students get email with course catalog

(Media)

Feb 20, 2018

Junior qualifies for state with art project

(Media)

Feb 13, 2018

IPC faces the egg-drop challenge

(Media)

Feb 08, 2018

Artists get ready for VASE competition

(Media)

Jan 24, 2018

HIGH SCHOOL MUSICAL: Theater department presents fund-raising production

(Media)

Oct 18, 2017

Tennis team advances to area play

(Media)

Sep 29, 2017

JV Indian football moves to 5-0 on season

(Media)