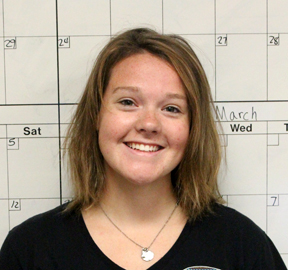 Stressing over college classes, trying to get all my interviews in by the deadline, memorizing music and swimming for no apparent reason--I guess this is what my senior is going to look like--sounds about right.
I am the organizations editor for yearbook, an advanced photographer and on the newspaper staff. This is my second year as an editor, and I believe I am doing pretty well for myself.
This will be my fourth year in swimming, and why I still swim, one will never know. I am also the 2018-2019 Head Drum Major  alongside Katy Beth Lashaway and Ember Webb.
"Pain nourishes courage. You can't be brave if you've only had wonderful things happen to you." -Mary Tyler Moore.
I have grown so much as a person since last year. Little did I know what I had in store for me then, and little do I know what this year has in store, but I hope whatever it is, my life will be changed in amazing ways.
I would like to announce, I am no longer a coffee addict. I decided while driving down the road with this weird shaky feeling in my veins, that it was probably time to lay off the coffee. I still have a ONE cup a day, but not every day.
"I sipped my own coffee, heavy on the sugar and cream, trying to make up for the late work the night before." - Laurell Hamilton.
Kaitlin Harrison, Staff Writer/Advanced Photographer/The BEAT Staff
May 15, 2019

Athletic department presents awards

(Media)

May 07, 2019

Publications take awards in state competition

(Media)

Mar 25, 2019

STATE CHAMPION: Alvidrez takes powerlifting title and record

(Media)

Mar 18, 2019

Martinez takes second at state powerlifting meet

(Media)

Dec 04, 2018

Theater Department has one more night of fall show

(Media)

Feb 19, 2019

Indian powerlifting takes fourth in Seagraves

(Media)

Feb 19, 2019

Two Maiden powerlifters qualify for regionals

(Media)

Feb 08, 2019

SkillsUSA prepare for district competition

(Story)

Feb 05, 2019

Lifters to compete in Levelland meet

(Media)

Jan 24, 2019

How the War Whoop got its name

(Story)

Dec 03, 2018

FFA trio takes awards at nationals

(Story)

Oct 01, 2018

JV Indian football takes win over Denver City

(Media)

Oct 03, 2018

Distance teams to compete in Lamesa

(Story)

Sep 27, 2018

COLLEGE DAY: Juniors and seniors to attend fair for their futures

(Media)

Feb 08, 2018

Artists get ready for VASE competition

(Media)

Jan 30, 2018

Indian JV black defeats Mustangs

(Media)

Jan 25, 2018

Ag students raise animals to show

(Story/Media)

Jan 31, 2018

JV Maidens fall to Denver City

(Media)

Feb 01, 2018

Maidens vying with Estacado for play-off positioning

(Media)

Jan 16, 2018

Clarinet player earns spot in all-state band

(Story)

Dec 01, 2017

SkillsUSA launches canned food drive to benefit service project

(Media)

Oct 26, 2017

Maiden volleyball to face Dalhart in bi-district on Tuesday

(Media)

Sep 29, 2017

JV Indian football moves to 5-0 on season

(Story)

Sep 29, 2017

Freshman Indian football takes first district win

(Media)