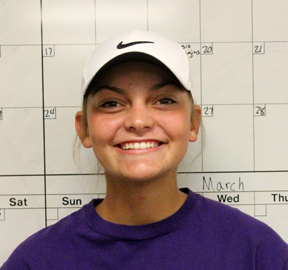 Heyo! I'm super excited to be the sports editor this year! This is my second year on staff, and I'm so beyond grateful for a program like journalism. It has shown me the joy in simplicity, and that common sense should probably be stressed way more in this world than it is.
This little group of socially-awkward, introverts, extroverts--journalists have created a place for me to go to that I know I will cherish.
In my personal life, I'm so blessed with an amazing family; I love them greatly.
Tennis is sincerely a great passion of mine; got any questions about tennis, I probably have an answer.
God is so good, and I'm just so thankful for His abundance of gifts He has given me and to humankind.
Jasmin Klassen, Sports Editor
Feb 14, 2019

GOOD SPORT: Where has appropriate behavior in sports gone?

(Story)

Feb 08, 2019

Indian basketball hosts Monahans tonight

(Story)

Feb 01, 2019

GOOD SPORT: How I found the love of my life

(Story)

Jan 22, 2019

EDITORIALLY SPEAKING: Former editors talk about being on staff

(Story)

Dec 14, 2018

Indians take on San Angelo Central on road

(Story)

Nov 27, 2018

Indians end play-off run to Canyon

(Story)

Oct 04, 2018

Indians take preseason to Loboland tonight

(Story)

Oct 03, 2018

Maidens defeated Pecos, face Andrews as first round ends

(Story)

Feb 06, 2018

New UIL district alignments send Seminole south

(Story)

Feb 01, 2018

Maidens vying with Estacado for play-off positioning

(Story)

Nov 09, 2017

Maidens finish in region quarters with district, bi-district and area titles

(Story)

Sep 29, 2017

Distance teams prepare for district meet

(Story)