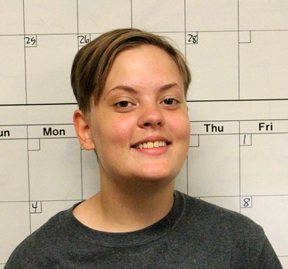 It's only the second week of school and I'm already dead! It's very hard to concentrate because my stomach is rumbling, so apologies in advance when this thing makes absolutely no sense.
Me in a nutshell? That neighborhood grandma, the one everyone knows they can come to if they need anything. I've always got candy, and I probably have some money to loan you-- although, maybe advertising that on the Internet isn't the best idea... Anyway, I also crochet (it's relaxing!) and I have really creaky joints; I qualify for grandmotherhood as a mere 18 year old. Imagine how great a grandma I'll be when I actually have grandkids.
Being a band kid, my music is a big part of my life. I listen to pretty much anything, as long as I can understand the words (if there are any. Instrumentals are good, too).
This year, I have a lot of fairly daunting responsibility on my shoulders. As a fourth-year journalism student, I am the editor-in-chief of the newspaper, the director of The BEAT, as well as editor of the Student Life section of the yearbook. I'm also a student leader at my church. All of this has compiled to tackle me in one big show of "welcome to adulting, kid. Have fun, but only a little. There's too much stress and stuff to want more."
My mom accidentally drank 3 Cokes while pregnant with me, creating a very caffeine-dependant daughter who was born three months early. I mean, otherwise, I'm fine! It's just that I become insufferable if I don't have some form of caffeine at least once a day. I feel like that's some sort of unspoken requirement to be one of the journalists here, though. Or is it part of being a journalist, period? These are the questions we need to be answering.
"You may feel like a poet, but you sound like an idiot." Mark Addy as Roland in
A Knight's Tale
Dusty Barron, Editor in Chief/The BEAT Editor
Feb 13, 2019

Child development classes learn about being a 'parent'

(Story)

Feb 13, 2019

SOUNDBITE: Classic movie is perfect for season of love

(Story)

Feb 12, 2019

MY VIEW: Be still, my angsty heart

(Story)

Feb 08, 2019

As vaping grows in popularity, so do risks

(Story)

Jan 24, 2019

Sentinel editor got start as War Whoop staffer

(Story/Media)

Dec 12, 2018

SkillsUSA gives smiles to local families

(Story/Media)

Dec 11, 2018

PHOTO STORY: Holidays happen in every hallway

(Media)

Dec 06, 2018

MY VIEW: It's your future. DO. NOT. PROCRASTINATE.

(Story)

Oct 05, 2018

Media usage dominates lives

(Story)

Sep 24, 2018

SOUNDBITE: Movie leaves much to be desired

(Story)

Sep 18, 2018

MY VIEW: Someone important is missing

(Story)

May 10, 2018

Maiden golf state-bound after third place finish at region

(Media)

Apr 17, 2018

Indian track headed to area

(Media)

Feb 27, 2018

Maiden basketball takes season to quarterfinals

(Media)

Feb 13, 2018

SOUNDBITE: Peter Rabbit worth the hype

(Story)

Feb 08, 2018

Artists get ready for VASE competition

(Story)

Jan 29, 2018

SOUNDBITE: Third Maze movie does not disappoint

(Story)

Jan 24, 2018

HIGH SCHOOL MUSICAL: Theater department presents fund-raising production

(Story)

Nov 13, 2017

FUN FOR FUNDS: Annual game supports chemotherapy patients

(Story)

Nov 09, 2017

Maidens finish in region quarters with district, bi-district and area titles

(Media)

Sep 29, 2017

SOUNDBITE: 'Kingsman: Golden Circle" brings spy adventure to America

(Story)

Sep 26, 2017

Speech team wins in El Paso

(Story)

Feb 14, 2017

SOUNDBITE: Netflix offers strange but delightful things

(Story)

Jan 27, 2017

Freshman Maidens take down Estacado

(Story)

Jan 23, 2017

SOUNDBITE: 23 personalities but not a great ending

(Story)

Dec 15, 2016

9th Maidens defeat Odessa High

(Story)

Dec 15, 2016

JV falls to Odessa High

(Story)

Dec 08, 2016

SOUNDBITE: The holiday season calls for classic films

(Story)

Oct 31, 2016

SOUNDBITE: Inferno fans flames of curiosity even though it's a sequel

(Story)

Sep 23, 2016

SOUNDBITE: Snowden movie gives insight into character

(Story)

Sep 23, 2016

JV football to face Greenwood

(Story)

Sep 23, 2016

Freshman (Black) move record to 5-0

(Story)

Sep 16, 2016

Gold team freshmen take record to 3-1

(Story)