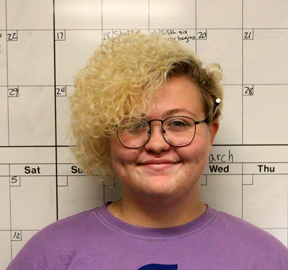 Lizard lore this may be. As always, I am late in typing this bio, but I cannot find the motivation to finish it.
Heading into my junior year, I realize that my ways of procrastination must soon come to a screeching halt. I am in far too many AP classes and extracurricular activities. This will be my second year on staff, and I'm adding that to band, work, student counci, and UIL.
A clear majority of my time is spent working on homework or going to band. I'm definitely not saying this is a bad thing, but I have so little free time. In this time, I love to read, write, listen to music, make art and watch television.
I teach robotics to children, but really I just get paid minimum wage to play with Legos.
Dusty Barron would be pleased to know that I mentioned I drive a 1996 Ford Bronco. I also spend a lot of time trying to fix it because it is very broken.
Here's to hoping this year will be better than the last.
Dustie Beaubien, Staff Writer
Feb 05, 2019

Lifters to compete in Levelland meet

(Story)

Oct 01, 2018

JV Indian football takes win over Denver City

(Story)

Oct 01, 2018

Freshman football team defeats Denver City

(Story)

Sep 07, 2018

PARKING PAINT: Service project encourages personal space

(Story)

Feb 20, 2018

Junior qualifies for state with art project

(Media)

Jan 29, 2018

FCC ruling threatens open Internet access

(Story)

Jan 22, 2018

Five swimmers qualify for regionals

(Story)

Nov 08, 2017

Aqua Tribe continues with pre-district competition

(Story)

Sep 29, 2017

Freshman Indian football takes first district win

(Story)