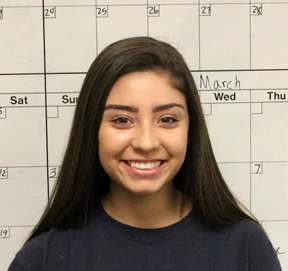 "Two things are infinite: the universe and human stupidity; and I'm not sure about the universe."
―
Albert Einstein
Hey there! This is my second year in journalism. I'm extremely excited to see what this year brings. I am involved in volleyball, softball, track and cheerleading. I guess you can say I'm a pretty active gal. I'm always ready for a challenge. I enjoy spending time with my family, listening to music and hanging out with my friends.
I have to admit all the work I did last year wasn't nearly this hard ( I've typed this bio over fifteen times). As I write this I keep thinking to myself "This feels a lot like my introduction to elementary," and  that's pretty upsetting. Anyway, I hope you have a great year--stay rad.
To future me--your bio next year had better be better than this...
Aaliyah Ericson, Staff Writer
Feb 08, 2019

9th Indians to meet Monahans tonight

(Story)

Feb 08, 2019

Win over Andrews keeps JV Indian basketball undefeated in conference play

(Story)

Dec 12, 2018

9th Indians face Central on Friday

(Story)