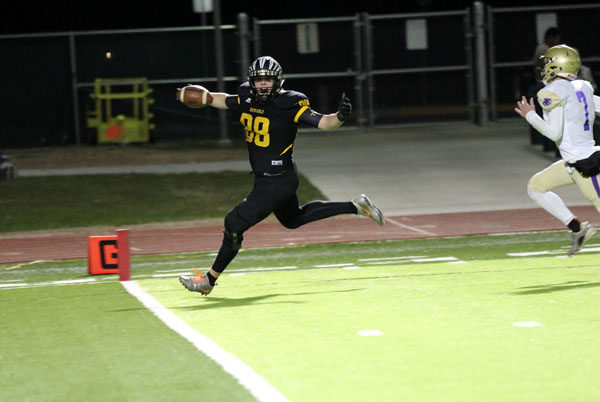 Triniti Mojica
As the Indian football team man-handled the Dalhart Golden Wolves in Portales, N.M., they knew they had tougher teams to worry about than District 1-4A's fourth place Golden Wolves. The Indians took the bi-district title, 43-6 over Dalhart, using much of the JV and freshman play-off move-up team in the second half.
Senior linebacker Brendan Leblanc said that Dalhart didn't present much of a challenge, but the team still needed to stay focused.
"We just played it like any other game," Leblanc said. "We knew that if we were over-confident and lost, we would all regret it."
The Indians must now wait on an opponent out of the bi-district match up between District 3-4A's Iowa Park and 4-4A's Life Waxahachie at 7:30 p.m. tonight in Gainsville.
The Indians defeated Sweetwater, 28-27, in overtime to clench the district title on Oct. 27, followed by a win over Fort Stockton to end the regular season with a perfect district mark.
"The game against Sweetwater was very tough, and afterwards it was really emotional," senior running back Ransom Edwards said. "Going into overtime, we were four or five plays in and scored. After they scored, we knew we would either block it or go into overtime. It was pure luck when their kicker missed, and some people even thought that we had blocked it."
After the win in Sweetwater, the Indians defeated Fort Stockton, 41-7, making them undefeated district champions.
"It was nice to see all our hard work pay off," senior tight end Reese Moore said. "I thought it was a good experience that we can take to playoffs."
Earlier in the season the Indians racked up shutouts against Snyder (40-0) and Amarillo River Road (56-0).
"I think the start to our season boosted our excitement and confidence to go into district and now playoffs," Edwards said. "When we got our shutout against Snyder, we got to shave Coach Mann's head. That was one of the most fun and encouraging things that have happened this season."
Senior defensive back Jonathan Knelsen recorded an interception in every game.
"For the most part it's about being in the right place at the right time," Knelsen said. "I think the difference is in experience. Every time I get the opportunity do something, the easier and more natural I can do it."
Knelsen said the same thing went for the team.
"We need to make giving 100 percent effort a habit because as district champs, we are going to have to make sure that we own the title," Knelsen said. "We will have to make sure to shut down the big plays and continue playing with a humble confidence against play-off teams like Graham."
Moving on past district the Indians hope to make it to state, which means there is no room for error when taking on opponents.
"Hopefully we keep our winning streak and make it to state," junior lineman Rusty Froese said. "I think moving forward into playoffs the boys we pulled up will give us good luck and help on the sidelines. We need to continue with practice as usual and be unselfish. If we lose, it will be pretty heartbreaking because I feel like we have a great chance to win."
Bi-district scoring summary
First Quarter (Indians 15, Dalhart 0)
Reese Moore–42-yard pass from Alex Menchaca; Cade Barnard rushing conversion
Alex Menchaca–3-yard run; Sergio Landeros Capetillo kick
Second Quarter (Indians 36, Dalhart 0)
Reese Moore–32-yard pass from Jordan Rodriguez; Sergio Landeros Capetillo kick
Alex Menchaca–2-yard run; Sergio Landeros Capetillo kick
Daniel Grado–20-yard blocked punt recovery run; Sergio Landeros Capetillo kick
Third Quarter (Indians 43, Dalhart 0)
Noah Mata–5-yard run; Servio Landeros Capetillo kick
Fourth Quarter  (Indians 43, Dalhart 6)
Alex Ruiz (Dalhart)–1-yard run; kick failed