Distance teams prepare for district meet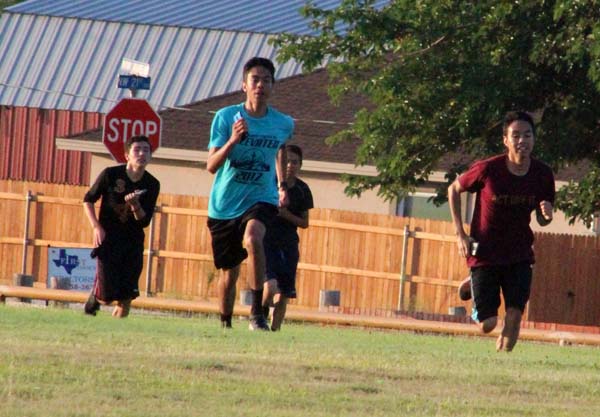 The cross country teams will run in Sundown tomorrow.
The Indians and Maidens are working toward district on Oct. 12 at Mae Simmons Park in Lubbock. One way they prepared for district was attending the Lubbock meet on Sept. 23.
"I think that meet was important because that's where our district is," junior Amanda Villalva said. "It's a hard course, but it only helps you get better."
Villalva has been running cross country for 5 years. She said the Maidens have a strong team with a tight bond. "We always encourage each other when we're slacking," Villalva said. "Every one of us has our days, and we're just always there for each other."
Freshman Azalia Contreras said the hills, heat, and Denver City are going to be the hardest things about district.
"The district run has a lot of hills, but coach prepares us for them," Contreras said. "We run hills at least once a week."
The Maidens haven't been fielding a full team on meet days because some are involved in volleyball. "Cross country is a sport you have to practice," Maiden Coach Lisa Pool said. "If you skip, it's like starting over. They have to find times to run, no matter what."
Before the gun, runners find ways to prepare themselves for the race and to last throughout the course.
"I think happy thoughts, fantasize about the run, and imagine the victory," sophomore Joey Neudorf said. "I try not to have any negative thoughts."
Lubbock Meet Results from Sept. 23
Varsity Women: tied for seventh as a team
Hailey Davis–7th (13:11.0), Dayanna Busanes–20th (13:44.2), Itzel Quinonez–40th (14:16.0), Azalia Contreras–46th (14:29.8), Amanda Villalva–51st (14:37.2), Emily Johnson–86th (16:20.4)
Varsity Men: Ninth as a team
Jude Gomez–36th (18:22.9), Joey Neudorf–39th (18:28.6), Micah Smith–40th (18:30.0), Antonio Arreola Lechuga–48th (18:45.5), Mateo Hernandez–64th (19:21.7), Noah Flores–76th (19:48.8), Frank Neudorf–99th (20:52.6)